More than 150 suspected Burundian rebels, who have been detained in neighbouring Democratic Republic of Congo (DRC) following their arrest a year ago, face imminent extradition, according to reports.
As talks to resolve Burundi's 19-month crisis continued without a significant breakthrough, armed opposition groups such as Republican Forces of Burundi (Forebu) and RED-Tabara have mushroomed. Supported by opposition hardliners, these groups have intensified attacks on government positions, and are allegedly behind assassination attempts on officials close to President Pierre Nkurunziza.
In January 2016, dozens of suspected Burundian rebels were arrested by the Congolese authorities in the province of South Kivu, a volatile region straddling the borders of Burundi, Rwanda, and Uganda.
Rebel groups were accused of using the cover of refugee camps in Rwanda to recruit Burundian refugees, as revealed by IBTimes UK in August 2015. The recruits were allegedly trained on Rwandan soil before being dispatched to DRC, from where they were expected to proceed to Burundi's capital Bujumbura.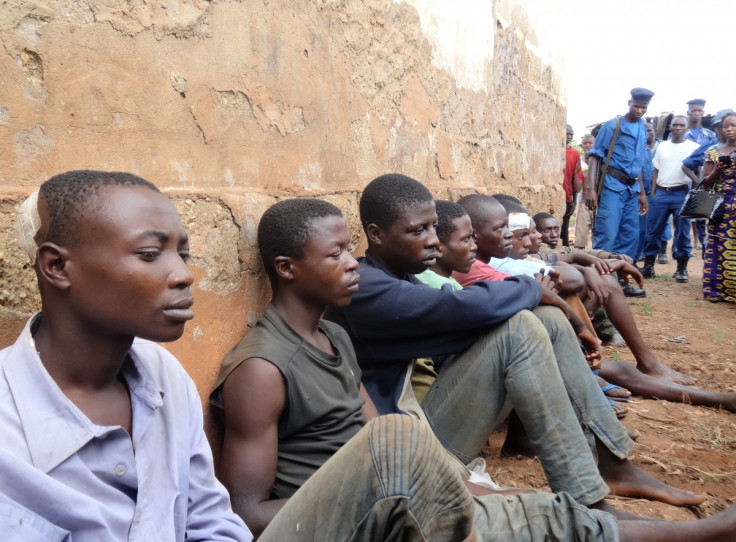 Accused of attempting to carry out armed actions in Burundi, the suspected rebels, currently detained in Uvira, Bukavu and the Congolese capital, Kinshasa, are now facing extradition. A Congolese military source quoted by RFI, said the suspected Burundian rebels were undesirable on Congolese soil.
"We are tired of keeping foreigners with us," the senior officer said. This comment appeared to be in reference to other alleged foreign fighters recently arrested in DRC, including troops loyal to South Sudan's ousted vice-president Riek Machar, who have been held in the UN-run Munigi cantonment facility in North Kivu.
Florent Geel, Africa Director at the International Federation for Human Rights (FIDH) said the imminent extradition provides evidence of an important cooperation between Burundi and the DRC. "The extradition of these 150 suspected rebels would be the judicial translation of this political axis," Geel said.
What charges could the suspected rebels face?
Chapters II, III and IV of Title IX (Violations of State Security) of the Burundi penal code provide for a multitude of potential offences ranging from treason, mercenary activity, participation in armed gangs or insurrectionist movement, to terrorism.
Prison sentences vary from two years to life imprisonment according to the 51 articles of the criminal code, which list these offences against state security.
The extradition, anticipated to take place on 24 January, was postponed following what Geel described as "a certain mobilisation" of international actors, due to fears the accused could face ill-treatment if they returned to their home country.
"The extradition of 150 suspected Burundian rebels [...] is worrying, it is a journey towards a certain death or at least to the regime's centres of torture, Geel told IBTimes UK in an exclusive interview.
FIDH's November 2016 report claimed that Burundi's justice apparatus was not independent and those suspected of supporting armed groups or being rebels are systematically tortured and, at times, executed.
"Upon their return to Burundi, we are sure that the suspected rebels will not benefit from a fair and free trial and will be prosecuted among the 51 articles of the penal code which deal with breaches of state security. They realistically face between 15 years and life imprisonment, if they are not executed in one of the regime's secret prisons."
A high-level Burundian diplomat who worked at the first Pan-African organisation, confirmed these fears. "Rebel or not and innocent or not, if someone is caught by the regime in place in Burundi, the fate which will be reserved to them is known. If these men are suspected of any crime, they face killings. We're not far from what happened in Burundi in 1993 and 1994, or later in Rwanda," the diplomat told IBTimes UK, speaking under the condition of anonymity because he was not authorised to speak publicly.
Public security minister, Alain Guillaume Bunyoni, who oversees the police, previously said that it was "unthinkable" that police could have mistreated detainees and that it would be a "serious error to assert gratuitously" that the police arbitrarily arrested, tortured, or ill-treated suspected government opponents or rebels.
Divisions along ethnic lines and opposed regional interests in the Kivus have proved fertile ground for local rebellions. While the region is also said to host Burundian rebel activity that resulted from past conflicts in Burundi — such as the 1993-2005 civil war that left some 300,000 dead — the Congolese services claimed new Burundian rebels had infiltrated the DRC to launch attacks across the border, and on Burundian soil.