An international rights organisation has called for France to take over diplomatic efforts to ensure Burundi's crisis is not forgotten and that the worst does not occur in the small East African nation.
Burundi's current crisis has killed up to 2,000 people and pits supporters of President Pierre Nkurunziza against those who say his re-election in July 2015 for a third term violated the constitution.
While organisations such as the International Federation for Human Rights (FIDH) are lobbying the United Nations (UN) to take strong action, UN involvement seems more uncertain everyday after Nkurunziza suspended co-operation with the UN's main human rights body over what the government described as a "dishonest and controversial report" accusing Bujumbura of systematic abuses.
Ahead of United States President-elect Donald Trump's inauguration on 20 January, the FIDH believes France should take over to ensure the UN Security Council adopts a new Resolution to ensure the worst does not happen in Burundi.
While France has condemned alleged state-sponsored violence and was behind a UN Security Council-backed resolution in July 2016 to send up to 228 police for an initial period of a year, it has so far failed to flex its muscles on the Burundi question. Bujumbura promptly rejected the proposed deployment. Despite another UN resolution on the human rights situation in Burundi in October, the opposition urged the UN to take over talks and send troops "to protect civilians".
"French diplomacy have to take the lead at the UN Security Council to address a clear message to the Burundian authorities that the criminal policy against their population will not allowed any more. Individual sanctions, referring the case to the ICC, declaring embargo on arms could be concrete action to take," FIDH Africa Director Florent Geel, exclusively told IBTimes UK.
"Everyone knows the catastrophe is imminent and there is a short window to put the situation of the Burundian people at the top of the international agenda."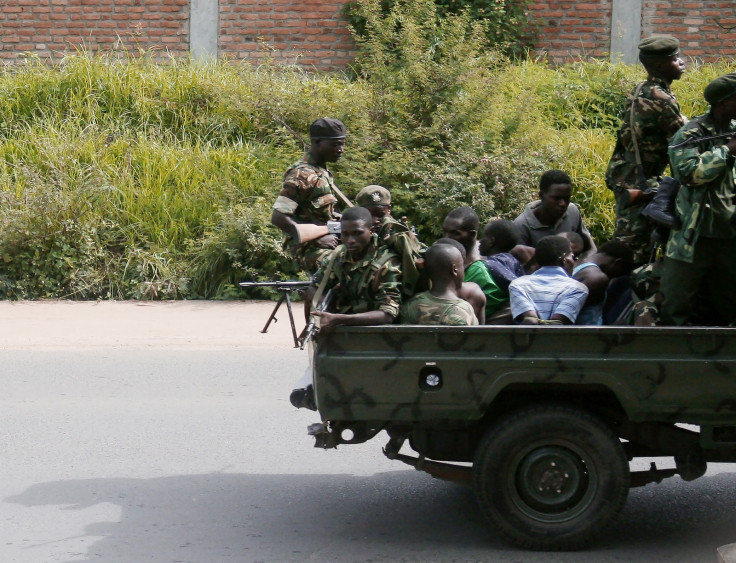 France should act before Trump's administration takeover
The FIDH, which has been working in partnership with member organisations to investigate alleged state-sponsored abuses and violence linked to opposition armed groups, believes Bujumbura officials may have been lobbying United States President-elect Donald Trump's entourage ahead of take over power from President Barack Obama.
Burundi-US relations deteriorated in 2015 when Nkurunziza vied for third and Obama's administration and former Envoy to the Great Lakes Region, Thomas Perriello, became the most vocal critic of Nkurunziza's regime, which its accused of using hate speech and violating human rights.
In November, Obama extended the national emergency against Burundi for a further 12 months while it emerged Bujumbura seemed optimistic about better relations with Washington under Trump.It is anticipated populist Trump's potential policies in Africa may mean a new era for international diplomacy for Burundi.
"We know we have only a small time slot now (to push for action on Burundi) that ends on the 20 January to try and ensure that a new Resolution on Burundi is adopted. After that, we believe it will be more difficult."