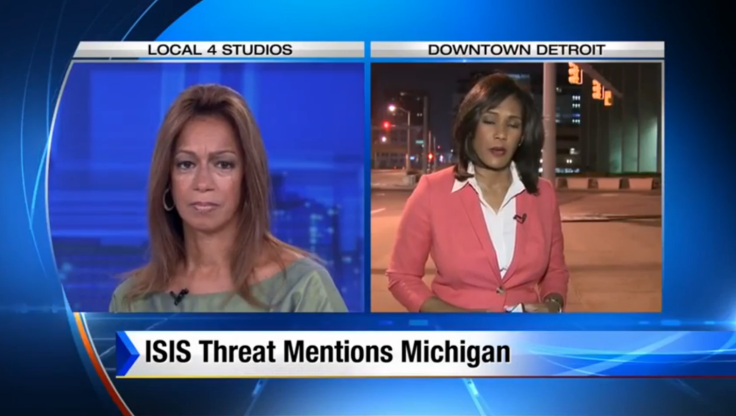 A news anchor in Detroit, Michigan landed in hot water after a controversial comment she made about the city's Arab population on 6 May.
Following a report on an alleged Isis threat in the state, WDIV-TV Local 4 news anchor Carmen Harlan said, "Given the fact that we have the largest Arab population outside of the Middle East, I guess this should not come as a real surprise."
"You're exactly right," reporter Kimberly Gill replied before wrapping up her coverage.
Harlan's comments were met by outrage and condemnation by Detroit's Muslim and Arab-American communities, the Huffington Post reported.
"This shocking lapse of professional conduct was directed against law-abiding citizens who strive to create vibrant, diverse communities wherever they live," Fatina Abdrabboh, director of the Michigan American-Arab Anti-Discrimination Committee, said. "Naturally, this type of analysis is very problematic for our community as we watch the impact of blanket indictments on the Arab-American and Muslim community that have nothing to do with the Isis phenomenon at all."
According to Mediaite, Progress Michigan's executive director Lonnie Scott also commented, saying, "Comments like these are an example of racial profiling at its worst and Carmen Harlan should apologise immediately."
The National Network for Arab American Communities told Mediaite: "As a reporter, she has a responsibility to remain objective in her reporting and not draw conclusions for her audience. We request that WDIV immediately address this racially charged comment."
Harlan issued an apology on Thursday 7 May, the Huffington Post reported. "In no way did I mean to imply that because of our community's makeup, there was a higher risk of Isis threats," she said. "If a misunderstanding occurred, and it must have, that was never my intent. For that, I apologise."
Scott applauded Harlan for her apology in a statement released on Thursday. "Carmen Harlan did the right thing by apologising for the remarks she made," Scott said. "As a respected journalist who has been a staple in Detroit, we believe Harlan meant no ill will in her comments, but they were still dangerous and needed to be addressed. We appreciate the swift and sincere apology Harlan offered."