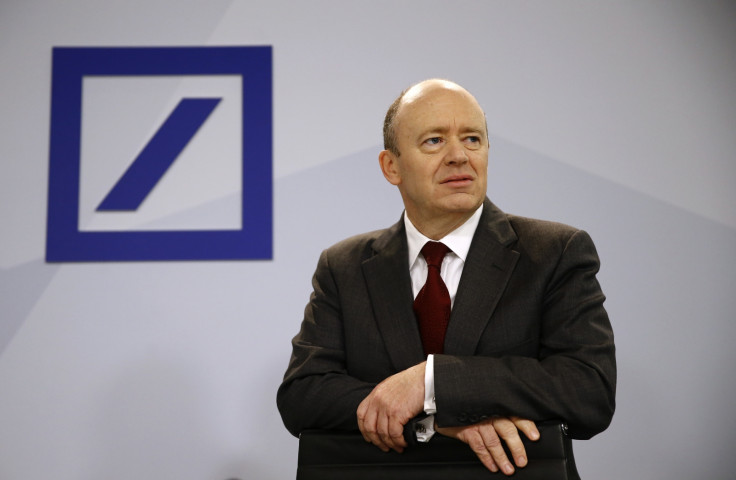 Deutsche Bank chief executive John Cryan said on Wednesday (6 September) that worries over stock, bond and property price bubbles are surfacing across the eurozone on account of 'cheap money' pumped in by the European Central Bank.
Speaking at a banking conference in Frankfurt, Cryan said the ECB's policy, which has seen it print more than €2trn (£1.84trn) so far, had become a cause for concern in 19-member common currency area.
"The era of cheap money in Europe should come to an end - despite the strong euro. We are now seeing signs of bubbles in more and more parts of the capital market," he quipped.
Cryan's stance chimes with that of several German politicians, including the country's Finance Minister Wolfgang Schaeuble, who have called on the central bank to change its stance as the euro continues to strengthen.
In April, Schaeuble said the bank's loose monetary policy is not helpful for the eurozone economy.
However, ECB president Mario Draghi responded with his own putdown, noting that while he does not comment on politicians, "It is pretty ironic to hear these comments from people who supported the independence of the central bank."
An ECB spokesperson declined comment on concerns raised by Cryan. The bank is set for its rate-setting monetary policy meeting on Thursday.
In recent months, the euro has appreciated against all major currency crosses, especially the pound, dollar and Swiss franc, reportedly alarming ECB, though the bank has never openly admitted concern over the matter.
Kit Juckes, head of forex at Societe Generale and IBTimes UK columnist, said the wider market has seen the ECB "draghing" it out far too often.
"FX rates can move faster, further than rates or yields and that allows them to react to the mere hint of monetary policy change. The euro's rally this year ahead of a possible shift to slow the pace of ECB bond-buying is a case in point."
At 4:05pm BST, the euro was up 0.19% and 0.05% against the dollar and sterling, changing hands intraday at $1.19137 and £0.9138 respectively.