A mass brawl erupted in Liverpool city centre on 22 November. Chairs and glasses were hurled across a city centre square when rowdy members of the public, possibly visiting football fans, clashed with police and bouncers.
CCTV footage shows around 40 men caught up in the violence, and Liverpool police confirmed that four people had been arrested and one man hospitalised following the fracas in Concert Square.
There were reports the bust-up involved visiting Italian football fans who had travelled to the city to support Atalanta against Everton in the Europa League this evening. Police have not confirmed this.
One traumatised witness told the Liverpool Echo: "It was genuinely terrifying. Me and my friend got trapped in the middle of it while trying to get out of Concert Square. I actually lost her at one point and couldn't find her in the crowd.'
Another said: "I've been working here around a year and never seen anything like it in my life. We were all sent in to McCooleys to keep us safe but it was awful.
"Chairs were being thrown and people pushed all over the square and down the stairs. Bouncers from all the clubs ran to help and made sure we were all okay.'"
Around 20 police vehicles arrived at the scene and both Hanover Street and Wood Street were cordoned off as specialist riot officers and police dogs responded to the incident.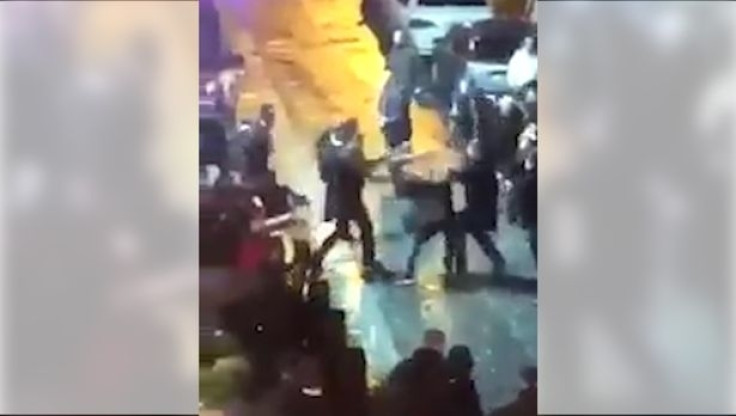 The shocking clip, which has been shared widely on social media, shows a running battle between the thugs and police, with chairs being used as weapons and one man being powerfully body-slammed onto the concrete floor amid the chaos.
Tom Hampson wrote on Twitter: "Atalanta fans in Concert Square then! That was the maddest brawl I've ever seen!"
A spokesman for Merseyside Police said: 'Officers were called to Liverpool city centre, this evening [23 November 2017] following reports of a disturbance involving members of the public and door staff.
"Officers attended at just after 11.20pm in the Concert Square and Wood Street areas and have arrested four people for public order offences. One male was taken to hospital with a head injury."