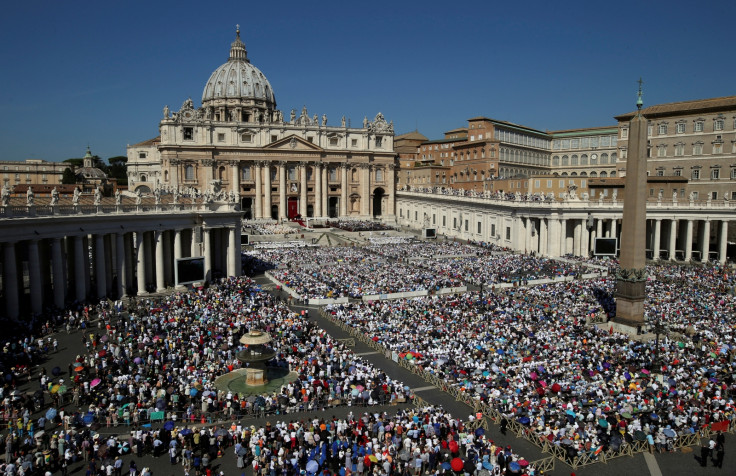 Violence such as the one perpetrated by the Islamic State (Isis) terror group is the product of the Devil, a renowned Italian exorcist has claimed. Vincenzo Taraborelli, 79, is one of the busiest exorcists in Rome, where he sees up to 30 people a day.
"Someone who believes, knows that the devil exists, you can read it in the gospel. Then you only need to see how the world is nowadays. It has never been this bad. These violence acts are not human. So terrible, like IS," Taraborelli told the BBC.
The Carmelite priest, who has been an exorcist for the past 27 year, made the claim in reference to the brutal murder of a French priest, slaughtered by two Islamist militants in a Church in Normandy in July.
It is believed that before being killed, father Jacques Hamel screamed at the two militants: "Be gone, Satan!", in an apparent attempt of exorcism.
The Catholic Church has acknowledged the existence of demonic possessions.
In 2014, the Vatican recognised the International Association of Exorcists (IAE), founded in the 1990s in order to make other priests aware of the "dramatic reality of exorcism" .
Taraborelli, however, claimed that the Catholic Church is struggling to find young priests who can substitute current exorcists. "I told the bishop that I can't find anyone willing to do this. Many of them are scared. Even priests can be scared. It's a difficult life," he said.
In several interviews with Italian media outlets, the priest explained that not everyone who goes to see him is possessed.
"The majority of people are normal people, who have problems in their family, or at work. Or they are people who were injured during conflicts. Nowadays, priests are too busy and do not have time to welcome these people, so they come to me. They knock at my door and ask for blessing. And I have enough time to welcome all of them," he told La Repubblica newspaper in 2015.
Taraborelli claims's on the difficulty to find new exorcists comes weeks after the Catholic Church paid homage to Italian priest and exorcist of the Diocese of Rome, Gabriele Pietro Amorth, who died in Rome on 16 September at the age of 91.
Amorth, who founded the IAE, claimed he had witnessed at least 100 demonic manifestations. He also claimed possessed people – who, he said, included Hitler and Stalin – vomit splinters of glass and iron.