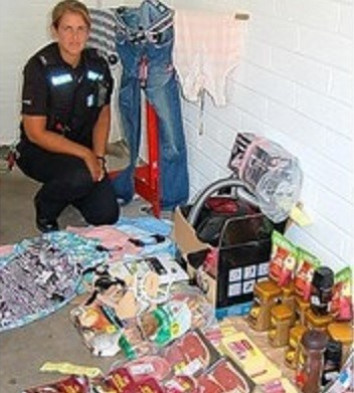 Eight people have been arrested after police targeting prolific shoplifters in Devon uncovered a black market "shop" where thieves trade stolen goods for bags of heroin.
Stolen property worth more than £1,000 was seized in a series of raids in Torquay, Paignton and Brixham under Operation Faction.
Meat, cheese, coffee, clothing and electrical items, believed to be stolen, were also recovered, along with mobile phones and drug equipment.
Acting Det Sgt Jason Metcalfe said: "This flat was clearly being used to operate as a shoplifted goods and heroin supply outlet. Even while officers were at the address there were a number of callers to the flat.
"One was actually in possession of suspected stolen meat. These types of premises make it very easy for thieves to dispose of their stolen goods and increase in offences."
The occupants had installed CCTV equipment to monitor visitors.
The "shop" in Winner Street, Paignton, has been shut down, Metcalfe added.
"We are not going to stop until we have arrested these shoplifters and the people who handle stolen goods. We will be putting them in front of the courts. This operation is going to go on all summer.
"It's a big crackdown. We will be deploying officers to arrest shoplifters, using covert and overt methods. We will also be looking at the places where they are disposing of stolen goods."
Operation Faction follows a police campaign last year to clean up nightlife in Torbay, known as Operation Ambassador, which had been hailed as a success.