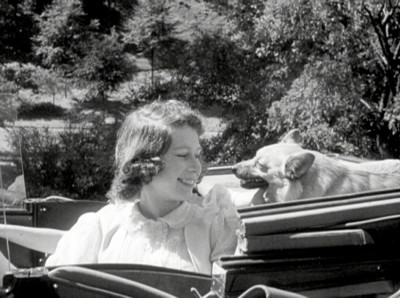 A set of black and white photographs that were hidden for over 50 years have been released by the British Council, on the occasion of the 2012 diamond jubilee weekend. The photographs show Her Majesty in her younger days, when she was merely Princess Elizabeth.
The Princess was crowned Queen 60 years ago, on 2 June, 1953.
The photographs in question date back to the 1940s and are stills taken from films Royal Road (1941) and Westminster Abbey (1945).
According to the British Council, the Queen's father - King George VI - took a personal interest in the making of Royal Road, which shows the young Princess Elizabeth, along with other members of the Royal family, in the gardens of Windsor Castle. A photograph of her in the garden with her pet corgis is one of the rarest ever seen of the Queen.
The other film, Westminster Abbey, was filmed during the days of World War II and took over three years to make. The choice of this one seems particularly appropriate for the diamond jubilee, given it includes footage of Princess Elizabeth as King George VI is crowned.
"The films give an insight not only into a bygone age, but also serve to capture how cultural relations have changed," the British Council said in a statement.
The Council has released 80 films, from its archive, to the Internet in the last month or so, as part of the diamond jubilee celebrations and the diamond jubilee weekend. The two mentioned above are the latest to be released. Altogether the films have been viewed more than 360,000 times since the Collection was launched.
"The Collection is proving to be a treasure trove of British history that's enthralling viewers the world over. We are delighted to be able to offer these special films complete with some candid, intimate views of the Royal Family, for viewers to enjoy for the first time in 50 years," Briony Hanson, the British Council's Director of Films said.
As the diamond jubilee weekend marks 60 years of the reign of Queen Elizabeth II, here is a look back at the Queen in 1940s when she was a young princess. Click on Start to view the slideshow...