Though much of hit Netflix series The Crown has been true to detail, director Julian Jarrold added in a few embellishments for our viewing entertainment.
One detail that has thrown many fans off was Winston Churchill's (John Lithgow) assistant Venetia Scott, who shockingly died during the Great Smog of 1952 that took centre stage in episode four.
The young blonde Scott (Kate Phillips) begins working for Churchill as he embarks on his second term as Prime Minister. They appear to grow close as the obsequious worker panders to Churchill's every whim and even reads his first autobiography, which he wrote during his twenties.
She catches his attention after reciting an inspiring passage from his memoirs she has memorised, as the show continued to touch on Churchill's egotism.
After visiting her roommate who falls ill during the smog in hospital, Venetia hurries to Downing Street with an urgent message for her boss. But in a shock twist, she becomes a victim of the deadly weather herself when she is run down by a bus.
Churchill is spurred on to tackle the weather issue after days of inaction once he visits his assistant's body in hospital, being visibly moved.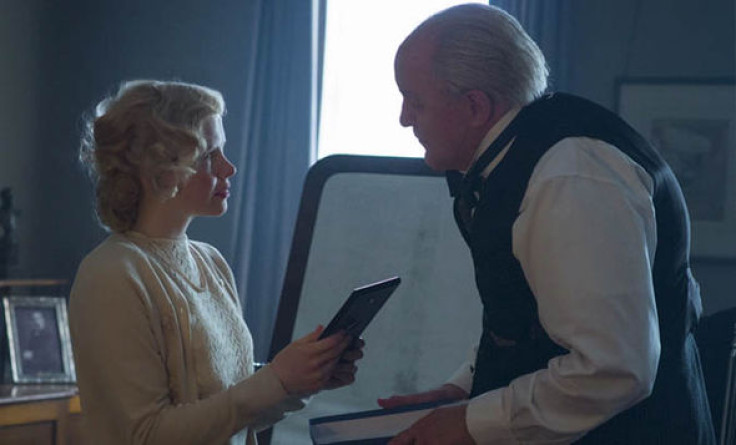 He goes on to make an impassioned speech that urges Londoners to remain hopeful, and announces a string of measures to prevent a repeat of the deadly pollution, which was thought to have killed an astonishing 4,000 people at the time.
The speech also saved Churchill from getting the axe, as the Queen (Claire Foy) was planning to discuss his 'position' in parliament with him the following day, urging him to step down.
But was Venetia Scott a real person, and was she the assistant to Churchill that got mowed down?
The enamoured secretary is in fact one of the only characters in the show who is not based on a real person. She was invented by The Crown's creator, Peter Morgan, to add a sense of tragedy to the Great Smog – and a little extra drama to an otherwise mediocre episode topic.
Though many were killed as London was covered in the thick, poisonous smoke, the tragedy was much less of a political crisis than is conveyed in the series.