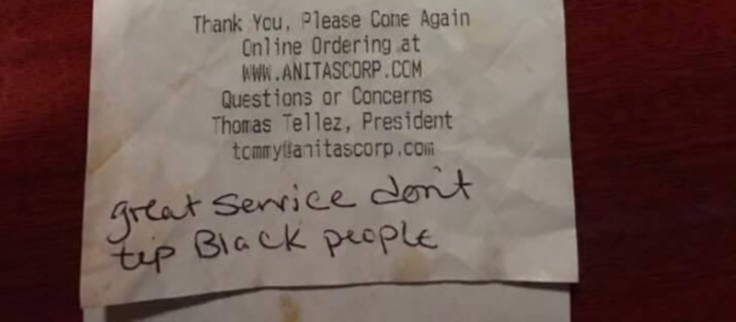 A Virginia waitress was left stunned when two customers left her a racist note saying that they "don't tip black people". The note was shared online by the Loudoun County chapter of the NAACP, an African-American civil rights group.
The group say that the defaced receipt was left in Anita's New Mexico-style restaurant in Ashburn, with the words written on the receipt: "Great service don't tip black people".
The waitress working that day was Kelly Carter, who said the couple who left the note were white and looked to be in their mid-20s. They paid the $30.52 (£25) owed in full.
Carter, who served the couple brunch on Saturday (7 January), told Washington-based WTOP News: "I looked at the receipt three times."
Owner Tom Tellez said after the instance that Carter had worked at the restaurant for many years without incident.
"It's just appalling, disheartening, outrageous – all of the above," Tellez said, adding that he had not seen anything like this in his 42 years working in family-run restaurants.
Both Tellez and Carter said the couple had not expressed any dissatisfaction with the food or service. "I was appalled, though it's kind of in line with the political landscape, unfortunately," Tellez told local media.
The defiant Carter remained undeterred by the experience, and said she would gladly serve the couple again if they did indeed revisit.
"One hateful remark cannot stop me," she declared. "My arms are still opened to him," she continued. "That's him, not me." A YouCaring fundraising page for Carter has been established.
Phillip Thompson, the president of the local NAACP, said following the incident that it was likely a "knucklehead trying to prove a point". He said: "I do believe under the current political climate this is just the beginning.
"Can't even get a quiet day to watch football. Well, the bell is rung, time to go into action."