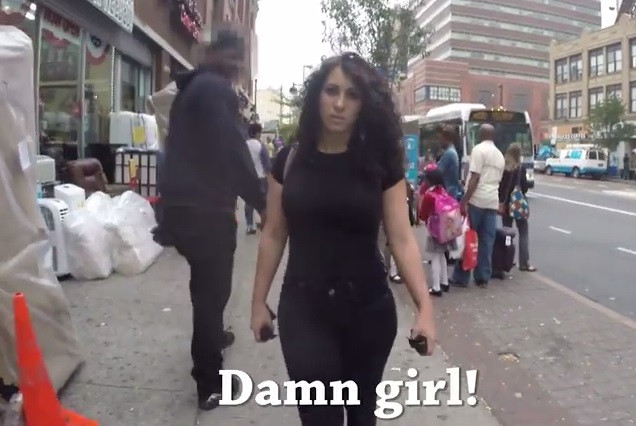 The director of the viral New York catcalling video has downplayed the negative reaction after he admitted he edited white men from it.
The video, 10 Hours of Walking in NYC as a Woman, sets out to show the number of times a woman is harassed in the street, and has been viewed nearly 24 million times since it was uploaded onto YouTube on 28 October.
In the two-minute clip, actress Shoshana Roberts is seen to endure a barrage of comments while silently walking around Manhatten's streets while wearing jeans and a crewneck T-shirt.
The video says that Roberts was approached or shouted out by men 108 times in just 10 hours, despite never replying. One segment of the clip documents how a man walked alongside her in silence for five minutes, after attempting to speak to her.
However, the video, made for the anti-street harassment organisation Hollaback! by marketing agency Rob Bliss Creative, has been criticised as being racially biased because the majority of males in the video were not white.
Answering a question on Reddit, the video's director, Rob Bliss, admitted he edited out a lot of white males from the video, which meant it did not end up being the "perfect representation of everything that happened".
Bliss said these while males were cut from the final edit because the city's noise pollution meant most of the footage was unusable.
"There's a siren that kills the scene, or someone walks in front of the camera, so we had to work with what we had," he added.
Bliss has now believed he was "misrepresented" in his original quotes.
He told the IB Times UK: "The question which was asked of me was 'Did I edit put white people?' They didn't say 'Did you edit out white people and black people, Hispanic people, older people younger people, Asian people?' [to which] I would have said yes."
He said: "Admittedly I didn't think about how people would take my quote if taken entirely on its own, I guess I was a bit naïve in that, but like I said we had lots of issues with sirens, but that also happened for everyone else.
"Wind and rain and technical difficulties don't discriminate against any one race."
He added: "I wanted this video – if you can believe it – to be as non-controversial and as neutral as I could possibly make it, because of that I had to have quality audio and quality video so I could truly capture what happened."
Bliss said around 60-70 scenes of harassment scenes were cut out for one reason or another, which meant the number they were able to work with had "rattled down" to around 30.
The video was edited further because some of the scenes were repetitive and he wanted the length to be around two minutes, in order to help it go viral.
Bliss pointed out the finished film is only 18 scenes long out of "possibly hundreds of thousands of times street harassment takes place in the US".
"The problem is people were treating this like we were taking a survey," he said. "And if you had a sample size of 18 you would have a widely inaccurate survey."
"For example, there's no Asian guys in my video, even though they make up around 10% of New York City. This is very statically inaccurate as, of course, Asian guys catcall."
Bliss added one issue was half the video was taken up with two scenes, both showing two men continually harassing Roberts who "by chance" were non-white.
"But we had to put that in there, not just one but both, and we had to put them on screen for a longer period of time to show how far this went.
He added: "I would have loved in those two guys were white, that would have made my life a lot easier. But we didn't pick out a demographic to work with, this is just what came back to us."
Asked why they couldn't have just filmed more footage until they got a fairer representation of each race, Bliss said: "First and foremost, we cared about making the case for street harassment and if we were to just film without a hard deadline, that would of meant it would have been very easy for people to say, 'Oh you just filmed endlessly until you came up with enough footage to make it look it was a real issue.'"
Bliss said in total there were about six or seven white men featured in the video, which is a relatively accurate compared to the real-life demographic of New York.
Yesterday, Hollaback! released a statement on its website saying, that it "regrets the unintended racial bias in the editing of the video that overrepresents men of color," but that it was its "hope and intention that this video will be the start of a series to demonstrate that the type of harassment we're concerned about is directed toward women of all races and ethnicities and conducted by an equally diverse population of men."