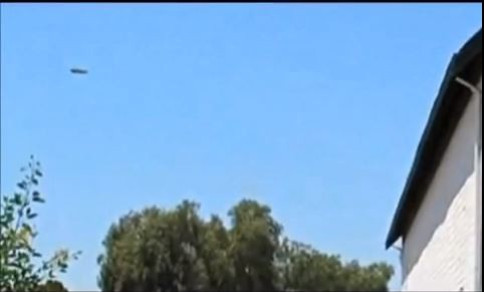 An Unidentified Flying Object (UFO) was photographed in skies above Santee in California on 7 May, by a photographer who was initially interested in a 100-year-old building.
Ellen Henry, a member of the Santee Historical Society (SHS) in San Diego County, told ABC TV's News 10 she was busy photographing the Edgemoor Barn, when she noticed the object in the background.
"I was at the Edgemoor property, in the middle of the day, to take pics of the barn to update the SHS barn logo. I was constantly looking up and around the area, including the sky's background, so I can get it just right, and not at anytime did I see anything in the sky or heard a sound of an aircraft," she said.
According to the Mail Online, when Henry saw the object for the first time, she thought it was a foreign object on the camera's LCD display. In fact, it wasn't till she downloaded the image to her computer that she discovered the UFO. She also said her camera mysteriously stopped working immediately after taking the photograph.
The Edgemoor Barn, once part of a medical facility, now serves as a museum. Interestingly, the building has several paranormal stories linked to the structure, with people claiming to have seen ghosts in and around the building.
A possible explanation of the UFO captured by Henry could be it was an aircraft. However, the 10News report claims they contacted Gillespie Field (an airport 10 miles northeast of San Diego) and MCAS Miramar (the Marine Corps Air Station) but neither could offer a plausible explanation.
Henry, however, remains adamant the object was neither an aircraft nor a drone.
"I would have heard it [aircraft or drone], especially as low as it seemed to be," Henry said, adding, "I have not seen any drones that were round or oval, and lacking wings, rudders or propellers -- even the drone that looks like a fly has wings."