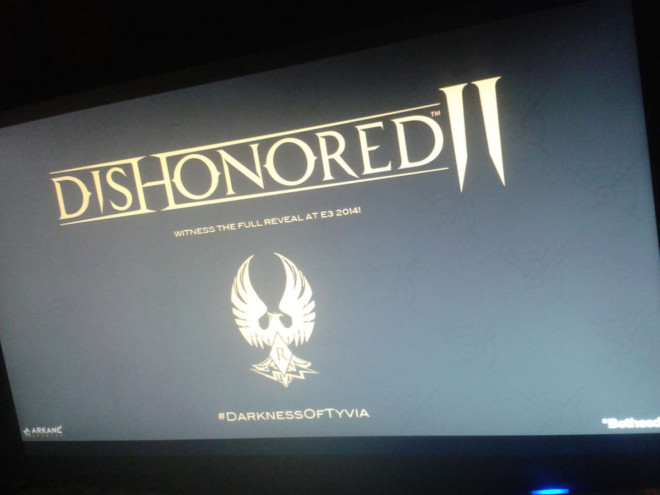 A new teaser image for Dishonored 2 has now appeared online. Posted on All Games Beta, the image details the possible logo for a sequel to the stealth-action game that came out in 2012.
A text reading "Witness the full reveal at E3 2014!" sits under the logo, indicating that the game's developer might show the purported sequel off at E3 this year. Apart from that, the image also contains the hashtag #DarknessOfTyvia at the bottom.
The image also adds that the game will be developed by Arkane Studios and published by Bethesda.
Upon keen observation, one would also notice that below the screen, there is something that appears to be a PlayStation 4 light bar.
This new leak is the first indication of a Dishonored sequel, since there has been no talk about the game for a while now.
This news should be taken with a grain of salt since unattributed images related to popular games appear on the internet all the time. Bethesda is yet to comment on the matter and there is a chance that they will.
E3 2014 will take place at the Los Angeles Convention Centre from June 10 through 12. The first Dishonoured game came out during October 2012 and received critical acclaim and significant commercial success.
While Bethesda has referred to it as a 'franchise' in the past, there has never been any official talk about the game original game receiving a sequel.