Disney airs first gay kiss in children's cartoon amid Beauty And The Beast controversy
Star vs The Forces of Evil featured male and female couples kissing on screen.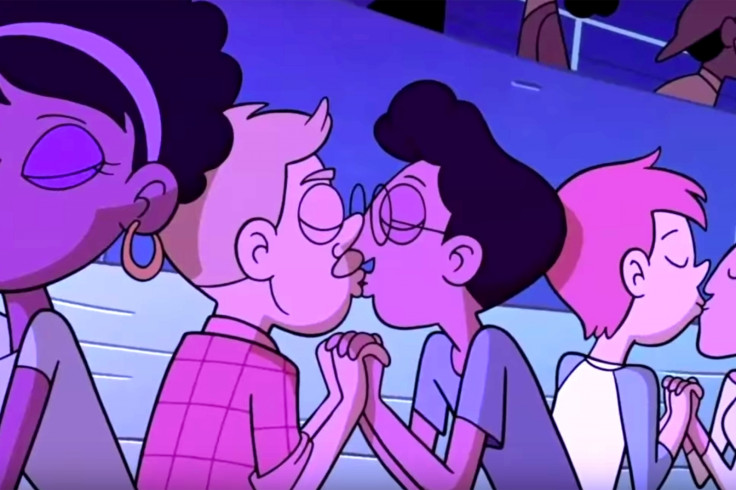 Disney's latest step to include LGBT (lesbian, gay, bisexual, and transgender) characters in its various projects has been welcomed by various groups but thousands of mothers seem to have disapproved of the gay and lesbian kiss scenes in the children's cartoon show.
Star vs The Forces of Evil, which airs on Disney XD, aired Just Friends on 23 February where the show's lead character Star, Marco, and Jackie attend a music concert. The audience gets romantically inspired by the mesmerising music played by band Love Sentence and soon everyone is seen smooching their love interests. The scene turned controversial after it featured male and female couples kissing.
However, multiple parental groups slammed the network for airing same-sex kissing on a children's cartoon show. One Million Moms, a conservative activist group, criticised the network and said: "This is the last place parents would expect their children to be confronted with content regarding sexual orientation. Issues of this nature are being introduced too early and too soon, and it is becoming extremely common and unnecessary.
"Disney has decided to be politically correct versus providing family-friendly entertainment. Disney should stick to entertaining instead of pushing an agenda. Conservative families need to urge Disney to avoid mature and controversial topics."
The House of Mouse has been under pressure for long to diversify its world by including gay and lesbian characters. It appears the production company has taken the pleas seriously as apart from the show, Emma Watson starrer Beauty And The Beast also portrays a gay character named LeFou.
In the Disney extravaganza, Josh Gad plays LeFou, an effeminate man with a visible crush on the antagonist Gaston. Even after being rudely treated by the villain (who falls for Belle), LeFou remains his loyal sidekick in the fantasy tale.

"LeFou is somebody who on one day wants to be Gaston and on another day wants to kiss Gaston. He's confused about what he wants. It is a nice, exclusively gay moment in a Disney movie," director Bill Condon told Attitude magazine about the inclusion of the LGBT character in the film.
A TMZ report reveals that the owner of the Henagar Drive-In Theatre in rural north-eastern Alabama does not want to expose its customers to homosexual characters and refuses to "compromise on what the Bible teaches".
Carol Laney, who owns the theatre, advocated running "wholesome" films on a now-deleted Facebook post on Thursday. "You can feel free to come watch wholesome movies without worrying about sex, nudity, homosexuality and foul language," she wrote.
"If we cannot take our 11-year-old granddaughter and 8-year-old grandson to see a movie we have no business watching it. If I can't sit through a movie with God or Jesus sitting by me then we have no business showing it," Laney added citing her religious beliefs to criticise the highly anticipated film.
© Copyright IBTimes 2023. All rights reserved.