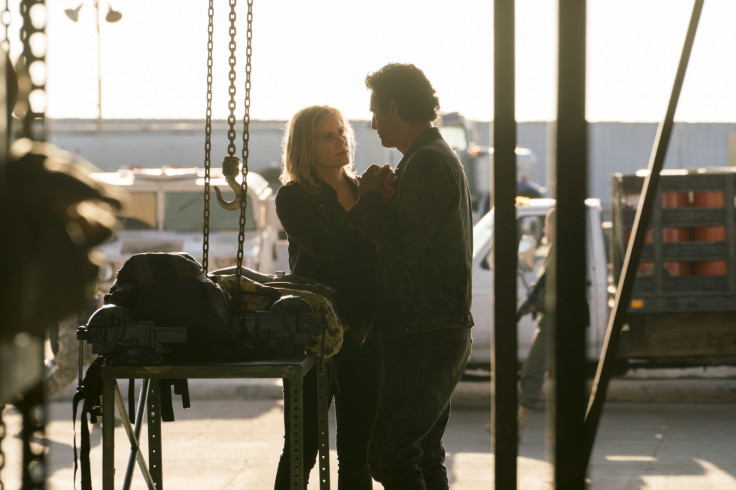 With The Walking Dead close to wrapping its seventh season, AMC is gearing up to bring its next zombie drama Fear The Walking Dead season 3. Expectations are high from the companion series as all the lead characters are separated from each other.
While Travis, Madison and Alicia escaped death by fleeing the survivors at the hotel, Nick and Luciana are in serious trouble after escaping Alejandro and his armed men. The post-apocalyptic world is set to turn more chaotic on the US-Mexico border with the entry of treacherous and violent groups. "As "Fear the Walking Dead" returns for season three, our families will be brought together in the vibrant and violent ecotone of the U.S.-Mexico border," the synopsis teases.
In the previous season, Madison frantically tried to find her lost son by tracing his trails and was successful to locate the dying Marco who guided her towards the border. Alicia, Travis and Madison need to hurry and reach Nick as soon as possible as he has been captured by a deadly group.
According to the official description, Luciana and Nick will be separated from their group and a militia group will capture them later on. It is not yet clear whether they are the same group that captured Ofelia in the second season.
The full synopsis of Fear TWD season 3 reads: "International lines done away with following the world's end, our characters must attempt to rebuild not only society, but family as well. Madison (Kim Dickens) has reconnected with Travis (Cliff Curtis), her apocalyptic partner, but Alicia (Alycia Debnam-Carey) has been fractured by her murder of Andres. Madison's son mere miles from his mother, Nick's (Frank Dillane) first action as a leader saw Luciana (Danay Garcia) ambushed by an American militia group — the couple escaped death, but Nick no longer feels immortal. Recovering both emotionally and physically, Strand (Colman Domingo) has his sights set on harnessing the new world's currency, and Ofelia's (Mercedes Mason) captivity will test her ability to survive and see if she can muster the savagery of her father."
AMC is yet to release the premiere date for Fear The Walking Dead season 3 but speculations are that it will return during summer this year.