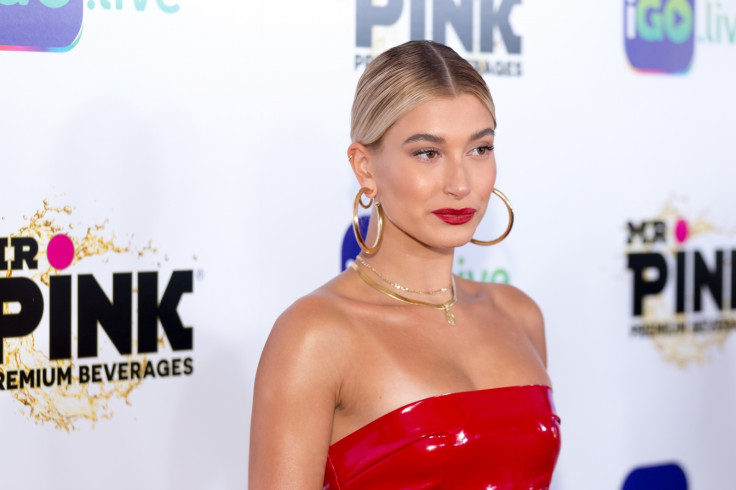 Hailey Baldwin has posted an old photo of Angelina Jolie and Brad Pitt from the Mr & Mrs Smith movie that came out in 2005 on social media, but fans are not too happy with her bizarre post.
In the snap shared on Instagram, Jolie and Pitt, who played an assassin couple in the film, are seen all suited up and with guns tucked in their waist. Baldwin captioned the post: "My future vibe."
The former A-lister couple was in the news for their high-publicised divorce filing in September 2016, after being together for almost 12 years.
Fans took to the comments section to slam the blonde for calling Pitt and Jolie her "future vibes". One user wrote: "You're a fake feminist." Another sarcastically wrote: "Really because they are divorced, awesome future vibes."
Another asked: "So you wanna go thru[through] a nasty divorce too ?" A fan even shared a piece of advice for her and commented: "But they got divorced, so if that would be your future it wouldn't end well for you. (Relation wise)"
"You mean divorce with lots of kids? noted a user. "Both made for each other but God doesn't want," said a user. The Justin Bieber ex was blasted for promoting violence by a user. "You promote violence b****h."
In the midst of all the hate comments, some fans came out in support of the model. One of her followers declared that Baldwin deserves better than all these hate comments. "You deserve all the love in the world, you're so lovely and deserve so much love. The world is dangerous, and you are a paradise, so don't call for this hate. You deserve so much better."
"Don't pay attention to these people, Hailey. They obviously just don't have anything better to do than watch everything you like it's ridiculous. I love you!" a fan of hers commented.
,