DNC hack: Guccifer 2.0 leaks Democratic Party 'counter-convention' plans to protest Republican event
Exposed DNC files reveal an $800,000 'counter-convention' to hijack Republican event.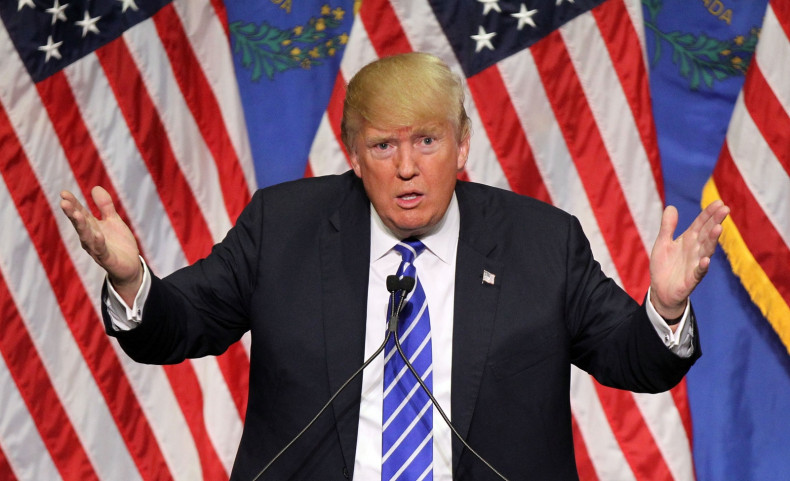 Leaked documents reportedly stolen from the computer networks of the US Democratic Party have exposed plans to spend more than $800,000 (£614,660) on a "counter-convention" in an attempt to hijack the upcoming Republican National Convention (RNC).
Released by a hacker – or hackers – under the name "Guccifer 2.0", the latest files include internal memos, financial spreadsheets and planning documents. However, one standout 22-page file consists of a detailed itinerary for the RNC – set to take place in Cleveland, Ohio from 18-21 July.
Allocated a proposed budget of $15,000, the counter-convention plans are largely aimed at ridiculing rival political presidential candidate, Donald Trump, with a set of gimmicks.
"The plan begins with setting the tone in Cleveland before the convention kicks off with activities previewing the most likely and outrageous falsehoods we expect to hear at the RNC," the document states.
"We will deploy a core team to Cleveland to establish a fixed location for daily press conferences, as well as a mobile rapid response hub for special events. A rotating cast of senior party leaders and officials will participate each day in our events, and we will pair party leaders and elected officials with real people whose stories reflect what's at stake in the coming election."
Alongside traditional campaigning plans like advertising ($150,000) and meeting spaces ($3,150) are a number of political schemes such as creating a "Trump Tabloid" in the style of the New York Post containing a number a fake article titles like "How to talk to women: by Donald Trump" and "Horoscope: What would your life be like with Trump in the White House?".
Other listed ideas include a "Go Trump yourself" kit which plans to include "spray tan, hair dye, tiny foam fingers, dog whistle and a regular whistle because "come to think about it, Trump isn't subtle about his hate".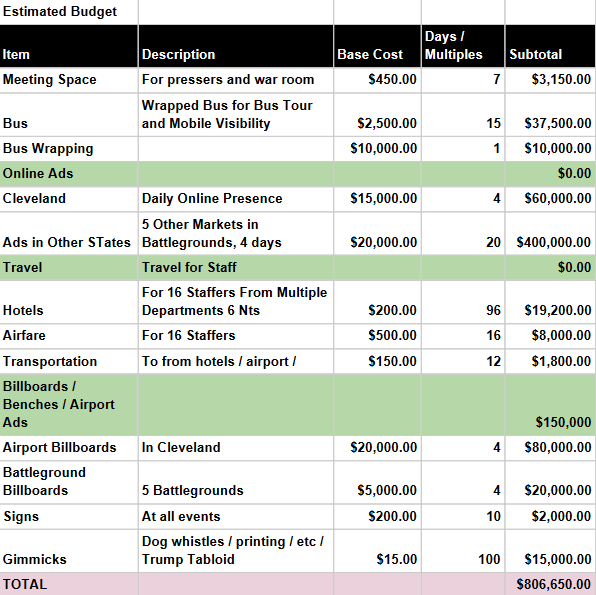 Screenshot: DNC financial planning
Guccifer 2.0/Screenshot
Another set of tactics involve giving attendees masquerade masks "to give out for people embarrassed to be there" and plans to provide lunch for reporters offering "food from countries Trump has offended". These include everything from tacos, Chinese food to fish and chips.
There is also a gift package labelled the "Trumpocalypse" survival kit – said to feature a "barf bag", a clothespin "to hold your nose while voting for Trump" and Alka Seltzer "because you're going to be sick to your stomach after voting for Trump".
The Democratic National Committee (DNC), which suffered the initial data breach leading to the slew of leaks, has not yet confirmed the authenticity of the files. The hacker, who previously disclosed a large opposition file on Trump alongside hundreds of files relating to Hillary Clinton, also released a spreadsheet of what appears to be a donor list.
Containing more than 17,500 records, the file lists names, home addresses, phone numbers, email addresses and a column listed as "Amount" which holds financial sums – everything from $100 to upwards of $60,000. According to US-based political website The Hill, a sample of records were accurately verified via voicemail.
A number of professional cybersecurity firms, including CrowdStrike and FireEye's Mandiant, believe the initial DNC infiltration was the work of Russian state-sponsored hackers. However, Kremlin officials and Guccifer 2.0 have both denied this assertion.