'Do not see us in weak light', says Indian acid attack survivor after walking the runway at New York Fashion Week
In 2014 Qureshi was pinned down by four men who proceeded to pour industrial grade sulphuric acid on her face.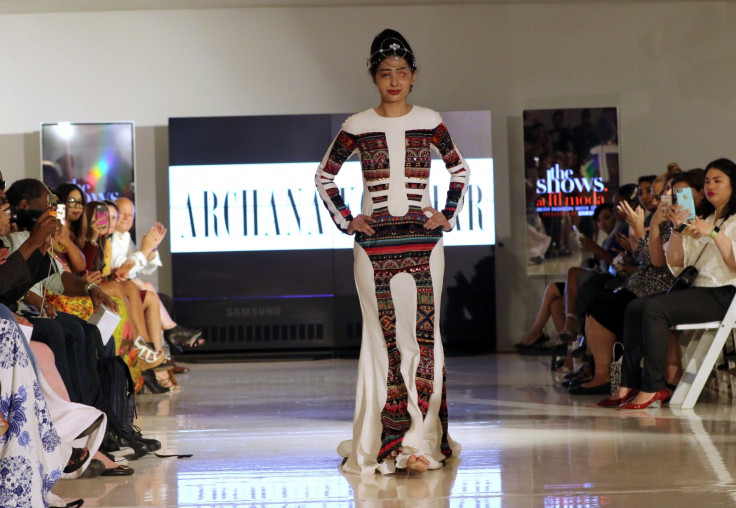 An acid attack victim from India made a strong statement on the first day of the New York Fashion week on 8 September by walking the runway. Nineteen-year-old Reshma Qureshi was flown to the US to participate in two Indian designers' shows – Archana Kochhar and Vaishali Couture.
Despite her disfigured face and loss of one eye, the teen exuded confidence as she modelled a white and floral gown and was met with a loud round of applause during the Kochhar exhibition. "I feel really good and the experience was great," she told AFP later. "I feel as though it has definitely changed my life. I feel brave."
The daughter of a taxi driver from Mumbai, Qureshi was attacked by her sister's estranged husband and his two friends back in 2014 because she rejected the former's marriage proposal. After being held down, the three men poured industrial grade sulphuric acid on her face, leaving it severely disfigured.
Since then, the young woman has been working with Make Love Not Scars, a non-profit organisation that has been helping survivors and is leading a campaign against the sale of acid in the country.
Qureshi's participation in the event is part of FTL Moda's #TakeBeautyBack campaign, in collaboration with the Global Disability Inclusion and Fashion Week Online, which aims to end the practice of acid attacks.
"I want to tell the world – do not see us in a weak light and see that even we can go out and do things," she said. "People have a tendency to look at acid attack survivors from one perspective and I don't want them to look at them like that anymore."
Meanwhile, on 9 September – the day Qureshi modelled Vaishali Couture – history was being made in India as a special woman's court sentenced a man to death for throwing acid on 23-year-old Preethi Rathi, who later died from multiple organ failure.
The death penalty against the attacker, Ankur Lal Panwar, is the first delivered by an Indian court for the crime.
Special Public Prosecutor Ujjwal Nikam called the case "rarest of the rare" and said, "If he is given a lesser punishment and if he is released after completing the sentence, other girls would not be safe."
© Copyright IBTimes 2023. All rights reserved.