A 26-year-old woman who claimed to be engaged to serial killer Charles Manson has been pictured wearing what appears to be a wedding.
Afton Elaine Burton is pictured flaunting the ring on her wedding finger in pictures obtained by MailOnline.
On November 7, the couple applied for a marriage license, giving them 90 days to carry out the wedding ceremony.
The marriage has not been officially confirmed by California State Prison.
Previously, a spokesman for the California Department of Corrections said that the wedding would have to take place on a visiting day: Saturday, Sunday or certain public holidays.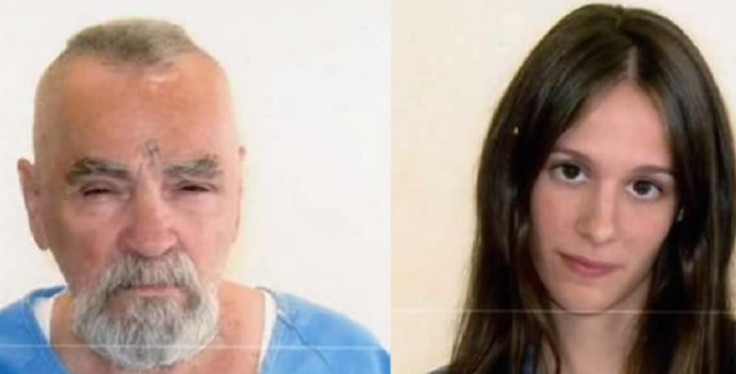 Under prison regulations, the couple would be allowed 10 guests from outside the prison, two guests from inside the prison, and to choose the official to undertake the ceremony.
However, under the terms of Manson's life-long prison sentence, which was imposed after California temporarily abolished the death penalty in 1972, he is not allowed conjugal visits.
Burton, who calls herself 'Star' has been in correspondence with Manson since she was a teenager, and moved to Corcoran, California, where Manson in imprisoned, to be closer to him when she was 19.
In an interview with CNN in November, she explained her relationship with Manson.
"I'm completely with him, and he's completely with me. It's what I was born for, you know. I don't know what else to say."
She said that she first became interested in meeting Manson after reading about his "ATWA" environmental philosophy, which stands for "air, trees, water, animals".
"It's the life on the planet, you know," Star says. "The Earth is a rock and everything else on it is ATWA."
She said she talks to him on most days on the phone, and visits him on weekends, and spends her time painting and maintaining the MansonDirect.com website which argues for Manson's release.
"I don't care what those kind of people think. It doesn't make any difference," she says. "The man that I know is not what they have in the movies or in documentaries and the books. He's nothing like that. He doesn't tell people what to do. He's not manipulative at all."
Manson was found responsible for an series of murders carried out by members of his Manson Family cult in the late 1960s, including actress Sharon Tate, who was pregnant with the child of film director Roman Polanski at the time of her death.