Rap star Kendrick Lamar has premiered the music video for his new single Humble and rumours are rife that the track is littered with subliminal disses towards his rival Big Sean. It comes just days after the Compton rapper reportedly took aim at both Sean and Drake on the song, The Heart Part 4.
Directed by Dave Meyers and the Little Homies, the Humble music video features several religious and biblical references, including Lamar, 29, wearing a Pope's gown while standing under a beam of light in a church. The Swimming Pools rapper also appears to replicate the iconic Last Supper image, sitting in the middle of a long dining table with friends enjoying a banquet feast.
However, it is the lyrics which have left fans trying to decipher the cryptic messages. Possibly referring to his jabs at Big Sean on The Heart Part 4, Lamar raps: "My left stroke just went viral, right stroke put lil baby in a spiral," suggesting Big Sean has been left taken aback by his war of words. Many have assumed that the "left stroke" refers to The Heart Part 4 while "right stroke" is Humble.
Others are also speculating that Lamar's line: "If I kill a n***a, it won't be the alcohol," aligns with Big Sean's track I Know, on which the Detroit star raps: "Blame it on the alcohol or blame it on the sativa?" referring to a strain of marijuana.
The rap feud is thought to have began in 2013 when Lamar appeared on Big Sean's critically-acclaimed track Control and claimed to be the better rapper while also denouncing the likes of Drake, J Cole and Meek Mill.
Humble embodies Lamar's return to rap after the lyricist experimented with funk and jazz on recent albums To Pimp A Butterfly and untitled unmastered. The track is expected to serve as the lead single for Lamar's upcoming fourth album, reportedly titled IV, which is set for release on 7 April. At the end of The Heart Part 4, Lamar challenged Drake and Big Sean to bite back at his disses, stating: "You know what time it is, ante up, this is in forever / Y'all got 'til April the 7th to get y'all s**t together."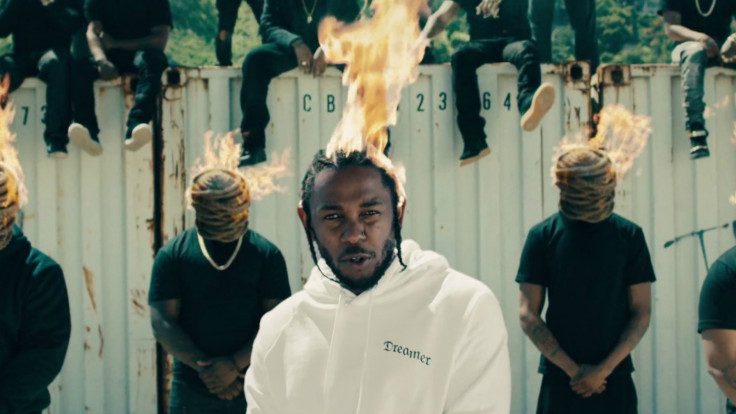 Lamar previously confirmed that his fourth album would not only channel a different sound than To Pimp A Butterfly, but would also stray away from discussing political and social injustice issues. However, he did tease that the content on his next record is "very urgent".
Watch Kendrick Lamar's Humble music video: