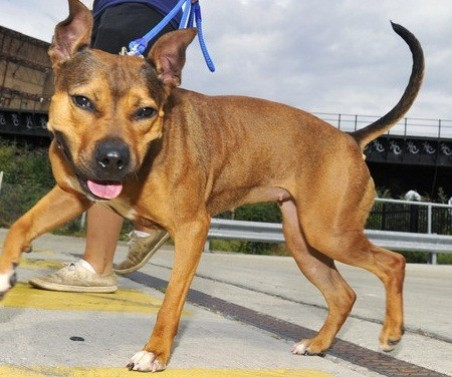 Two men have been arrested after two dogs allegedly attacked 10 people on a street in St Leonards, a suburb of Hastings in East Sussex.
Police were called to investigate reports that several people had been attacked after two dogs got loose.
Three of the victims were treated for bites and scratches at Queen Victoria Hospital in East Grinstead.
A 22-year-old man was arrested at the scene on suspicion of allowing dogs to be dangerously out of control. A 21-year-old man was arrested for the same offence later.
The dogs, believed to be Staffordshire bull terriers, were placed in police kennels for assessment.
When officers arrived at the scene, one dog had already been caught. The second dog was caught by a dog unit.
One victim, David Noakes, 48, tried to pull the dogs off a woman who had been trying to get another victim to safety when she was attacked. Noakes was bit in the leg and needed several stitches.
He told the Evening Standard: "I heard all this shouting and could see the dogs attacking the man; they had him on the ground and were dragging him by the hand. There was blood everywhere.
"When a woman and her daughter stopped and tried to get the man into their car, the dogs started attacking them. The man wasn't making much noise but the women were screaming.
"I ran up and tried to pull the first dog off her, but then the other dog started taking chunks out of my leg.
"I lost a lot of blood and I've got stitches in the front and back of my leg. I'm more concerned for the others - the man looked in a really bad way."
Chief Insp Heather Keating, the Hastings district commander, said: "This was an incredibly distressing incident and quick work from members of the public and officers at the scene meant that the incident was quickly brought under control.
"Firearms officers were deployed to the incident but they were stood down when it became clear that the unarmed officers were able to get the dogs under control safely.
"Officers are remaining in the area."