Nearly half of all women survivors of domestic violence experienced online abuse during their relationship, according to new research published by Women's Aid.
The same research has established a link between domestic violence and online abuse.
In a survey of 307 women who had all experienced violence at the hands of a partner, 48% reported experiencing harassment or online abuse once they had left the relationship and 38% of women said they had been stalked online after they had left their partners.
Trolling
In 2013, trolling hit the headlines as highly publicised instances of harassment and stalking revealed a shocking level of online misogynistic abuse.
Caroline Criado-Perez, a British journalist and feminist, reported what she called a "tidal wave of hate" as she was sent explicit and disturbing messages over Twitter.
One read: "I hope you get raped and die soon after #b***h."
While online abuse has been well documented, the link between domestic violence and online abuse has now been confirmed by this new Women's Aid research: around 45% of women who experience domestic abuse were also attacked online.
Speaking to Women's Aid, a survivor known as Amy revealed the six years of abuse she endured at the hands of her partner.
Amy told the organisation that her partner controlled her every move, phoned her constantly, denied her money for food and forced her to commit benefit fraud and give him the money.
He would push, shove and strangle Amy, and after she gave birth to their first child, he violently raped her.
When she left him and moved into a refuge, the abuse turned online and Amy was stalked on Facebook, emailed and eventually, she was forced to move house four times.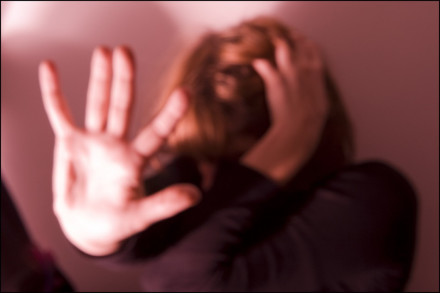 Violence increasing
The prevalence of domestic violence is increasing.
Earlier this week, the Guardian uncovered statistics which revealed 10,000 women were at risk of death in their own homes.
According to 44 police forces across England, Wales and Scotland, around 10,952 women are at risk of murder or severe injury.
Speaking to IBTimes UK, Polly Neate, chief executive of Women's Aid, said: "Two women a week are killed by a partner or ex-partner, so it is hardly surprising that a large number of women are considered by police to be at high risk of death or serious injury."
Neate also added that women are not reporting abuse. She said: "The majority of women experiencing domestic violence never report it to the police out of fear or because they don't believe the police can help, those that do are often not adequately assessed for domestic violence risk. Even worse, we know that even being assessed as being at high risk doesn't mean a woman will necessarily receive the necessary protection."
The problem, as revealed in the latest study, shows this issue extends to online abuse.
Online abuse
Around three-quarters of the women polled said they were concerned that the police were unaware of how to respond to online harassment from a partner.
In addition, 12% said they had not been helped after seeking help. Figures released from Scotland Yard revealed 40% of victims of domestic violence homicides were also stalked online.
While shocking, it is sadly unsurprising that technology is being used to accompany domestic abuse.
Perpetrators have easy access – even if they are no longer with the victim – to their Facebook, Twitter and other social media profiles, as well as email.
Cyberstalking can be terrifying, as the woman is abused both physically inside her home, as well as on the bus, at work or even after she has relocated.
The stalker is able to tactically control a victim, and murder can be likely when domestic violence, stalking and coercive control occur in tandem.
Emma revealed how she was harassed online after breaking up with a partner. The psychological pain she experienced, she said, continued for years afterwards. She explained: "I wouldn't answer a call from a number I didn't know, wouldn't open emails from unrecognised email address, and was nervous about Facebook because I was scared I'd have messages from him. My privacy settings are as high as they can be, I never check in, and I approve all posts before they go on my timeline, because he would contact me talking about stuff I'd done as though he'd been there, and I knew he'd seen it on Facebook even though I'd blocked him."
While victims are advised to stay offline and change their phone, this is simply not practical in reality.
Sarah Richards, director at the national stalking advocacy service Paladin, said this action could "further isolate" the victim. She added: "It closes down their space for action, infers it is their behaviour that is the problem and is fixation is present, the stalker will just find the new number and other ways to track the victim. It is the stalker's behaviour that needs to be help to account and it is vital professionals including the police and Crime Prosecution Service understand it."
Online abuse, harassment, stalking and domestic violence go hand in hand. It is fed by misogyny and negative attitudes towards women, which make up the root cause of the problem. From the individual social media user to the government – this attitude towards women needs to be addressed at all levels before the violence will end. Then, and only then, will the menacing messages of "I will find you" be empty threats.