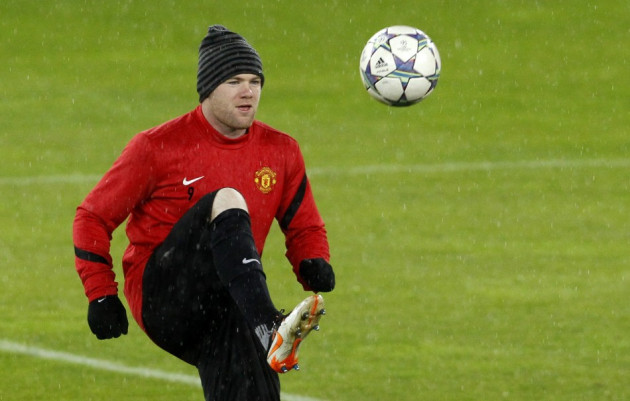 Sir Alex Ferguson remains adamant Wayne Rooney will not be affected by his impending Euro 2012 appeal hearing as Manchester United prepare for their crucial Champions League clash against FC Basel.
Rooney will learn the outcome of his appeal against a three-game international ban on Thursday. The striker received a straight red-card after kicking Montenegro's Miodrag Dzudovic in October.
The Manchester United playmaker will travel to UEFA headquarters in Nyon for the hearing following tonight's match in Basel, but Ferguson insists the player will not be distracted by off-field events.
"It's a different day, it is a big game, an important game," Ferguson said. "I don't think the hearing will come into it at all."
Manchester United require a point in Basel to secure their place in the last-16 and Ferguson is confident his squad have the experience to finish the job in Switzerland.
"I think we have to rely on experience in the last few years away from home - that is the record we are taking into the game. It helps us, there is no question about that and let's hope it does for this match," Ferguson said.
"The concentration levels in the games recently have been very good. It will be a fantastic atmosphere. I have been here in the past and the Basel fans always make it difficult."
Ferguson moved to dismiss comparisons between the underwhelming 2005 Champions League campaign and the precarious situation United face on Wednesday night.
Then, as now, United required a final-day victory to advance into the knock-out stages. However, defeat against Benfica in Lisbon meant Ferguson's side failed to make it out of their group, the last time such a fate befall United.
"The side that played then was a very young team that suffered with a lot of injuries," Ferguson said. "That period was disappointing. But it is six years ago. Our record since then has been outstanding."
The Manchester United manager also downplayed suggestions that his side have underachieved in the early stages of the season.
Ferguson's side trail neighbours Manchester City by five points in the Premier League and are only two points ahead of Tottenham, who have a game in hand.
"People say we are not doing well but we are second in the league and we are at a stage where we could be qualifying for the next phase of the Champions League," Ferguson said.
"The pressure won't affect us. Look at the number of big games these players play in. Every year for the last few years they have been involved in finals and semi-finals and quarter-finals and big games in the Premier League.
"We have a strong squad and that squad will see us through without question."