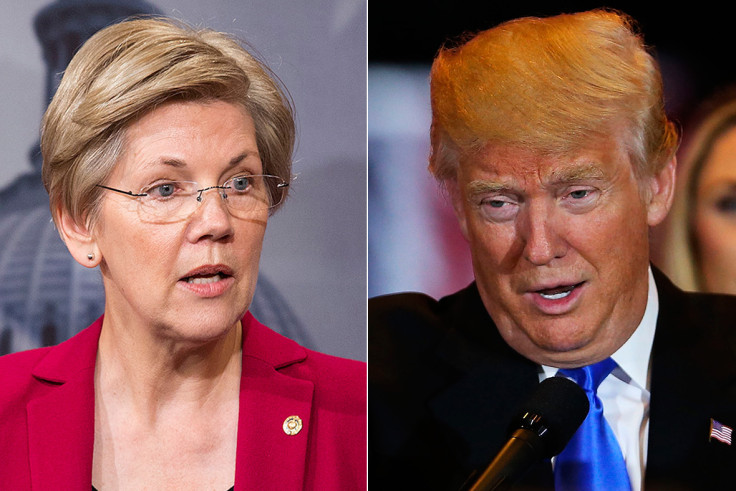 Republican presumptive presidential nominee Donald Trump has reignited his feud with Democrat senator Elizabeth Warren, stating calling her Pocahontas was "an insult to Pocahontas".
The GOP candidate and the Massachusetts senator have hit out at each other a number of times since Warren was tipped to be on Democrat candidate Hillary Clinton's VP shortlist, with Trump mocking Warren's claims she was of Native American heritage and referring to her as 'Pocahontas'.
In an interview with The O'Reilly Factor on Fox News on 20 June, when Trump was asked whether he regretted referring to the senator as Pocahontas, he said: "I do regret calling her Pocahontas, because I think it's a tremendous insult to Pocahontas. So, to Pocahontas, I would like to apologise to you."
He also told the host Bill O'Reilly that Warren "has been a lousy senator", adding "she has done a terrible job".
Trump has made his feelings about Warren perfectly clear, frequently referring to the Massachusetts senator as "goofy Elizabeth Warren" on social media, to which Warren has previously responded with criticism of Trump's qualification for the role of GOP nominee.
"Fling as much mud as you want, @realDonaldTrump. Your words & actions disqualify you from being President – & I won't stop saying it," she tweeted.
It is not yet clear whether Warren is among the shortlisted candidates for presumptive Democrat presidential nominee Clinton's VP, but she has been tipped to be under consideration, and Clinton has confirmed there is at least one woman on the VP shortlist.