Donald Trump Jr mocked for poor form in weightlifting video - 'I'm withdrawing my support'
First Bro breaks his deadlift record, but Instagram followers aren't too impressed with his technique.
Brotastic gym-enthusiast Donald Trump Jr has caused followers to wince at his poor form in a new workout video, which he has shared to Instagram.
The 39-year-old former reality star – who is the US President's eldest child – looked like any other social media-happy gym-goer in the clip posted to his 1m followers.
Wearing a beige back-to-front baseball cap with a T-shirt and shorts, Trump sized up the monstrous looking weight in front of him and picked it up deadlift-style.
He captioned the clip: ''Well it wasn't pretty but I set a new personal Deadlift record today hitting 375 lbs. I know I know the form went to hell so I'll save you the need for commenting. Back too rounded legs up to fast etc etc... At the extreme ends it gets tougher to stay perfect. That said still pretty psyched. #crossfit #deadlift #pr#weightlifting #fitness #ugly''.
The businessman's followers left comments in their droves on how he could improve his gym moves, with one person telling him: ''Keep your back straight not arched otherwise you'll slip a disc like I did''.
Another advised: ''If you can pull the bar up to the top, you should have the strength to control it eccentrically back down to the starting position. Nice hit.''
A third added: ''With that form, I'm withdrawing my support''.
Others were impressed with Trump Jr's deadlift attempt, with one fan commenting: ''Don Jr. You're a legend and don't you ever forget that!!!!!''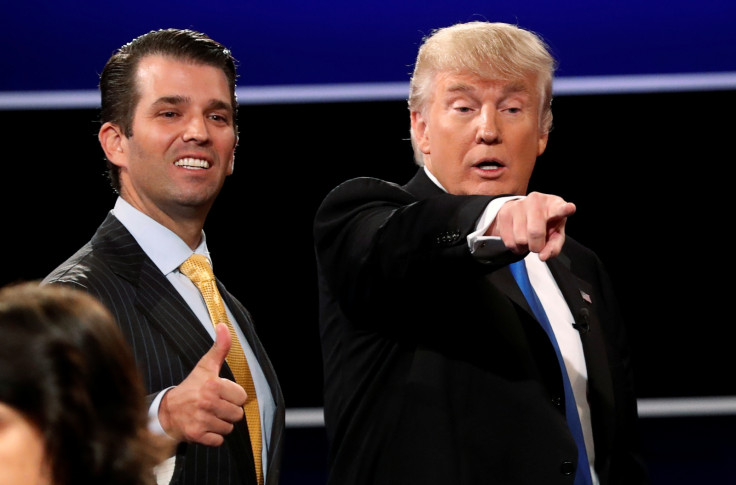 Someone else encouragingly said: ''Nicely done. Don't downplay yourself. Not a lot of people can do that. Some people don't even get their buts off the couch.''
Trump Jr – who is married to Vanessa Haydon, with whom he shares five children – is very active on social media and often shares snaps of his children and dad.
He campaigned for his father during the presidential election in 2016 and was characterised by the New York Times as "a close political adviser" to his father.
In January earlier this year, President Trump announced that Jr and his brother Eric would oversee a trust that included the Trump Organisation assets while he was president – in aid of averting a conflict of interest.