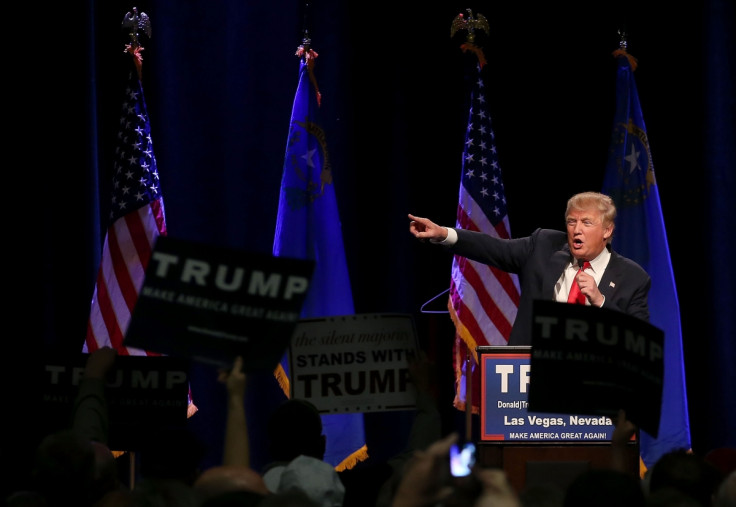 Scuffles broke out at a Donald Trump campaign rally on 14 December, incited by supporters of the controversial Republican candidate. Security intervened to escort protesters out of Las Vegas auditorium.
Black Lives Matter activists repeatedly interrupted the divisive 69-year-old while he was speaking from the stage of Westgate Convention Centre in the Nevada city on the eve of a crucial Republican debate.
The heckling drew a furious reaction from the crowd, with some calling for a protester to be set on fire and others reportedly yelling Nazi slogans. Videos of the commotion were recorded and posted online by some of the numerous reporters in attendance.
In one a man can be heard saying "Light that m*********** on fire" as members of security wrestled an African American demonstrator who resisted being removed from the room. Others reportedly shouted "Shoot him" and "Kick his ass" while a middle-aged man went as far as exclaiming "Sieg heil!" [Hail victory] and mimicking the salute used in Nazi Germany under Adolf Hitler, according to NBC News.
In another clip members of the public are seen shoving a protester as he was being ushered to the door.
Trump appeared unmoved by the chaos, also thanking supporters for helping security. This is the latest in a string of similar incidents as the controversial billionaire is leading polls ahead of a televised debate of Republican White House hopefuls that is to take place on 15 December, also in Las Vegas.
Two new surveys showed Trump enjoys a comfortable nationwide lead on his challengers. An impressive 38% of Republican and Republican-leaning interviewees said they would support him for the GOP nomination for president, with his nearest rival Ted Cruz trailing at 15%, according to a Washington Post-ABC News poll.
Trump's margin is even higher in a separate Monmouth University Poll that puts Trump's preferences at 41% against Cruz at 14%. The real estate tycoon has surged ahead thanks to a series of inflammatory statements that have overshadowed other candidates' campaigns.
Trump has, among other things, said that all Muslims should be banned from travelling to the US, and labelled most Mexican immigrants as criminals and rapists.
A Las Vegas heckler told the ThinkProgress political news blog that he interrupted Trump's speech in protest against the latter statement. "My family is Mexican and I hear him saying we're rapists and that we come here to steal and we don't work. That's really offensive. My family are hard-working people who want to give back to this country," he said.