President-elect Donald Trump and Mitt Romney appear to have mended their fractious relationship, with a meeting between the pair described as "great".
Throughout Trump's presidential campaign, he and Romney, who ran against Barack Obama in 2012, pair exchanged verbal blows, with Romney previously referring to Trump as a con man, while Trump called Romney a "choke artist" for losing out to Obama.
However, this weekend, Trump held a series of meetings with people including Romney, former New York mayor Rudy Giuliani and New Jersey governor Chris Christie.
Given Trump's prior inclination to choose to surround himself with people who supported him throughout his campaign, a White House job offer for Romney would come as something of a surprise, but Trump's transition team have suggested the president-elect is keen to have the best people in, regardless of their prior allegiances.
Speaking with reporters after the meeting with Trump on a private golf course in Bedminster, New Jersey, where Trump is holding his meetings this weekend, Romney said the pair had a "very thorough and in-depth discussion" and appreciated "the chance to speak with" the president-elect, the Associated Press reported.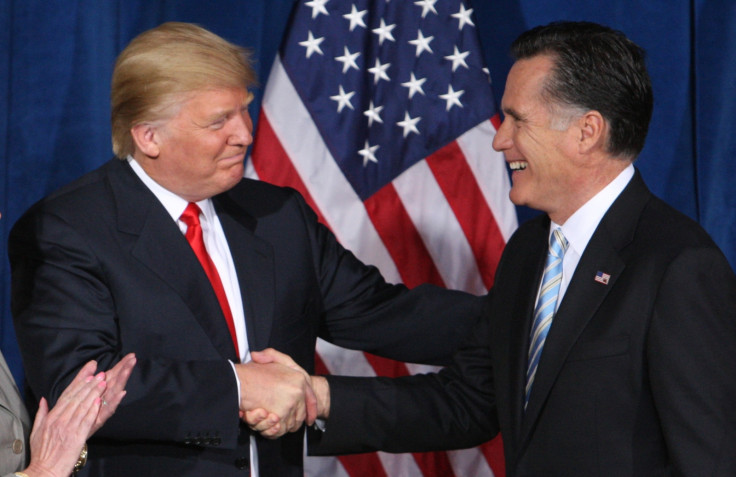 For his part, Trump told reporters of the meeting: "it went great".
However, Romney did not comment on whether the meeting was lined to a role with Trump's administration, or if he would consider taking such a role.
Some of those the Republican organized meetings with are under consideration for cabinet positions, while others are taking meetings to offer their ideas for the coming term, Trump's transitional team said on a conference call with IBTimes.
However, it is not clear which of the meetings is linked to a White House role, although there is expected to be an announcement about further appointments to Trump's team this weekend.
Thus far, some of Trump's appointments have proved to be controversial, with the choice of former Breitbart boss Steve Bannon as White House chief of staff raising eyebrows.