President-elect Donald Trump has settled three fraud lawsuits linked to his failed Trump University for $25m (£20m), the New York Attorney General has said.
The bombastic billionaire was being sued by three former students in California and New York.
The trial had been due to begin in San Diego on 28 November and Trump had repeatedly claimed that he would not settle the class-action lawsuits. The now defunct for-profit university had charged students $35,000 (£28,000) for real estate "secrets" from his "hand-picked" instructors.
Trump's lawyers had petitioned the court to postpone the fraud trial to push the case by a couple of months from 28 November to sometime after the 20 January inauguration of Trump as president. Attorney General Eric Schneiderman said the settlement was a "major victory" for the victims.
Attorney General Eric Schneiderman said in a statement on Friday 18 November: "Today's $25 million [£20m] settlement agreement is a stunning reversal by Donald Trump and a major victory for the over 6,000 victims of his fraudulent university.
"The victims of Trump University have waited years for today's result and I am pleased that their patience - and persistence - will be rewarded by this $25 million settlement."
The university was said to have "preyed upon the elderly and uneducated to separate them from their money". And it was expected that Trump, himself, would be required to testify as part of his own defence in the federal court civil trial.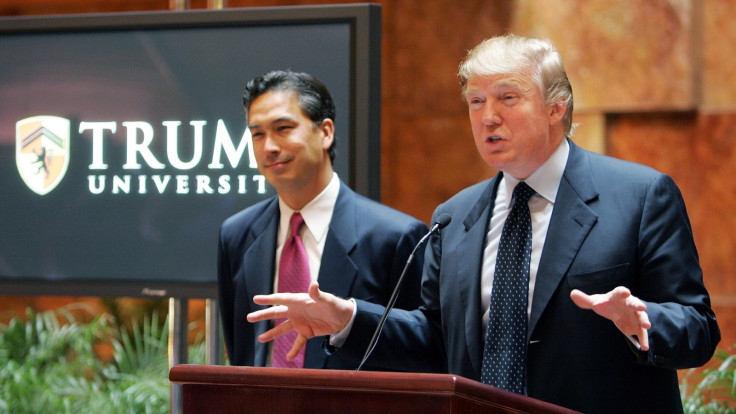 Schneiderman was ridiculed as a "lightweight" by the New York real estate mogul in the lawsuit in relation to the university which closed in 2010. Schneiderman was seeking $40m (£32m) from Trump.
Schneiderman called Trump University a "fraud from beginning to end" in July, adding that the organisation used "false promises to prey on desperate people".
Trump said in June: "I will win the Trump University case. I already am, as far as I'm concerned. I could settle that case. I could have settled that case. I just choose not to."
Schneiderman alleged that Trump personally pocketed about $5m (£4m) in the "scheme". It was feared that Trump could have been impeached before he even took office as Article II of the US Constitution states that presidents may be impeached if they are convicted of "treason, bribery or other high crimes and misdemeanours."