A group of 15 law professors who specialise in legal ethics have filed a disciplinary complaint against President Donald Trump's counselor, Kellyanne Conway, for engaging in conduct involving "dishonesty, fraud, deceit, or misrepresentation".
Conway graduated from George Washington University Law School and was admitted to the DC bar in 1995.
Since she began serving as counselor to the US president, Conway has provoked a string of controversies and the professors said she is "currently acting in a way that brings shame upon the legal profession".
As Conway's messages grew increasingly out of step with other officials from the Trump administration, she became conspicuously absent from television screens and reports swirled that she had been axed from news broadcasts.Conway appeared on Fox News' Hannity to deny the reports, saying TV appearances only represented "about 5%" of her role.
"There are some people, I think, trying to get in my way," said Conway. "I've also gobbled up a lot of other people's TV opportunities so there's some resentment on the outside, I believe, and folks just trying to use me as clickbait in a headline."
The letter cited a number of examples of Conway's alleged "misconduct", including her reference to the "Bowling Green Massacre" in an MSNBC interview to justify Trump's executive order banning immigrants from seven Muslim-majority nations.
"Not only was there no 'massacre' in Bowling Green, Kentucky (or Bowling Green, New York, for that matter), but Ms Conway knew there was no massacre," the letter said. While Conway said it was a slip of the tongue, her actual words were at odds with her claims.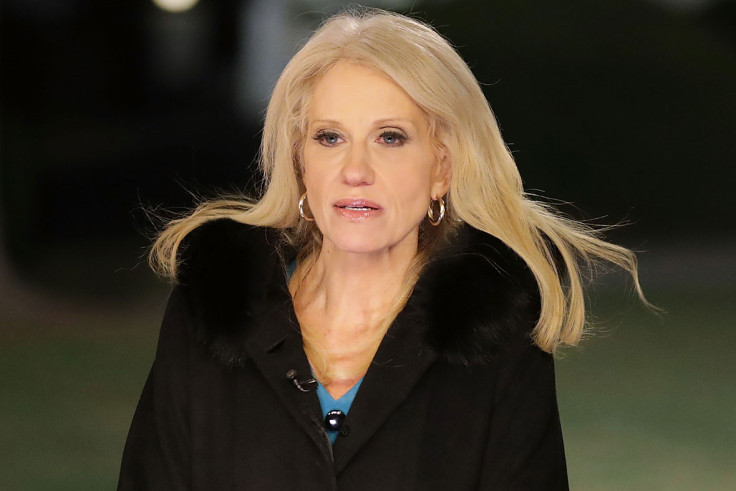 "She cited the non-existent massacre to media outlets on at least two other occasions," the letter said.
In the same interview with MSNBC, Conway falsely claimed that Barack Obama had banned Iraqi refugees from coming to the US in the aftermath of the attack that never happened. But, the letter noted: "President Obama did not impose a formal six-month ban on Iraqi refugees.
"He ordered enhanced screening procedures following what actually happened in Bowling Green – the arrest and prosecution of two Iraqis for attempting to send weapons and money to al-Qaeda in Iraq. The two men subsequently pleaded guilty to federal terrorism charges and were sentenced to substantial prison terms."
But Conway's conduct involving "dishonesty, fraud, deceit, or misrepresentation" were not limited to the attack that never was. The professors also referred to her use of "alternative facts" over the size of the crowd in attendance at Trump's inauguration, as well as her endorsement of Ivanka Trump's products in an interview with Fox News.
On that occasion, Conway said: "Go buy Ivanka's stuff, is what I would tell you," after Nordstrom announced plans to drop the first daughter's products.
Not only did Conway endorse Ivanka Trump's products, she also said: "I'm going to give it a free commercial here."
The letter condemned it as a "clear violation" of government ethics guidelines and added: "Federal rules on conflicts of interest specifically prohibit using public office "for the endorsement of any product, service or enterprise, or for the private gain of friends, relatives or persons with whom the employee is affiliated in a non-governmental capacity".
The signatories of the letter dated 20 February 2017 teach at a range of prestigious US institutions, including Georgetown University Law Center, Yale Law School, Fordham University and Duke University.
The dons said that while they did not file the complaint "lightly", it is their belief that "lawyers in public office – especially those who act as spokespersons for the highest levels of government – be truthful".
The letter ends: "She is a lawyer and her conduct, clearly intentionally violative of the rules that regulate her professional status, cries out for sanctioning by the DC Bar."