Donald Trump's polling numbers aren't going from bad to worse. They're going from terrible to, well, even more terrible.
He entered the White House with the worst approval rating of any president. A subsequent Gallup poll found 47% of Americans thought he was moving too fast as president, against 35% who said his pace of action was about right. Moreover, the same poll shows a clear majority disapprove of his controversial executive orders, with roughly just four in ten giving the thumbs up to each.
The man behind Trump's campaign and early presidency, his closest counsellor, is Steve Bannon, former executive chairman of the hard-right nationalist website Breitbart.
After delivering Trump the presidency, Bannon – who has referred to himself a nationalist, though vehemently denies critics' claims he is a white supremacist – was made his chief strategist, whose guiding hand can be seen in a lot of the recent decisions taken by the White House.
But if the polling slide continues as the Trump administration bounces from one controversy to the next, the question surely is: How long can Bannon last?
The inauguration speech was poorly received
Trump's inauguration speech, reportedly co-written by Bannon, was poorly received by those other than his supporters. It was accused of lacking a strong and much-needed unificatory message to bring a bitterly divided country closer together after a tempestuous election campaign.
Trump's 'Muslim ban' executive order was chaotic
A key theme of Breitbart's journalism under Bannon was heavy criticism of Muslim immigration to the US, over what its reporters said were integration and security concerns.
Of the several executive orders made by Trump, most of which have been controversial but operable, there was one which caused an almighty stir the world over: The so-called "Muslim ban". The order imposed a 90-day travel ban to the US – subject to review – from seven Muslim-majority countries considered a security "concern".
In his campaign, Trump called for a "total and complete shutdown of Muslims entering the United States until our country's representatives can figure out what is going on".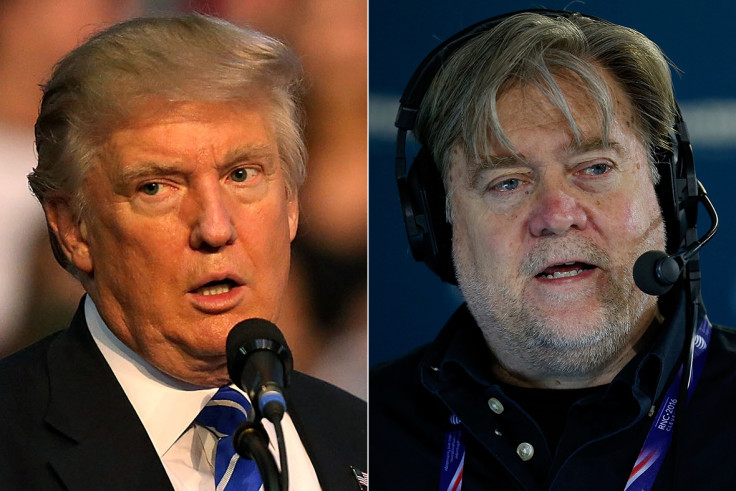 Realising this would be unlawful, Trump asked former New York mayor and supporter Rudy Giuliani to look at how it could be done legally. He was told to target countries where there was a security justification for doing so, not make it explicitly about a faith group, to make the ban "legal".
As a result of the ban, legal residents of the US travelling from these countries, or who were nationals of them, were detained at the border, creating chaos and sparking mass protests against the executive order. It was also condemned across the world, even by US allies. The travel ban is now subject to a number of legal challenges, and could well fall if it is ruled to be unconstitutional.
According to Gallup, 55% of Americans disapprove of the order, against 42% who approve – and Bannon's marks are all over this policy, which has damaged the administration domestically and internationally.
The past keeps coming back to haunt him
Bannon, who has described himself as a Leninist who wants to destroy the state, was candid in an interview with Vanity Fair about using Trump as a "blunt instrument" to advance his own ideology, and said he wasn't sure it the president "really gets it". Bannon's alarming beliefs are well-documented, and keep re-emerging.
The ex-Goldman Sachs banker believes the US is in the fourth great crisis of its history, the others being the Revolution, Civil War, and Great Depression / WWII.
Speaking at a conference at The Vatican in 2014, Bannon said: "We're at the very beginning stages of a very brutal and bloody conflict... we are in an outright war against jihadist Islamic fascism... there is a major war brewing, a war that's already global. It's going global in scale, and today's technology, today's media, today's access to weapons of mass destruction, it's going to lead to a global conflict that I believe has to be confronted today."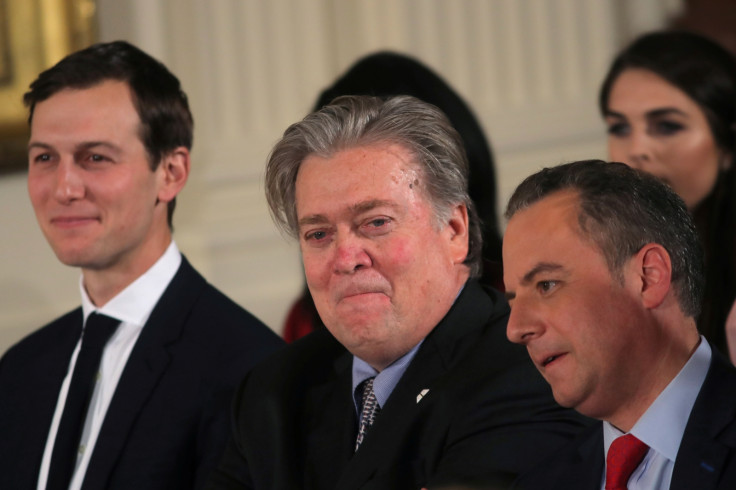 It has since emerged that in 2016 on his Breitbart podcast, Bannon suggested a war with China is coming soon: "We're going to war in the South China Sea in five to 10 years, aren't we? There's no doubt about that... They're taking their sandbars and making basically stationary aircraft carriers and putting missiles on those. They come here to the United States in front of our face — and you understand how important face is — and say it's an ancient territorial sea."
No wonder, then, that Bannon's appointment to the National Security Council was reportedly met with shock and horror among the Washington defence establishment, which does not regard him as qualified or experienced enough. Bannon was in the US Navy for several years in the 1970s, though he never saw combat.
Bannon's personal past has also boomeranged back into his face a few times. Charges made against him in the mid-1990s in which he was accused of domestic violence against his first wife resurfaced during the election 2016 campaign. The case was later dismissed when his wife didn't turn up for the trial. He had pled not guilty.
Later in 2007 divorce proceedings, his second ex-wife claimed he made anti-Semitic remarks, including calling Jewish children "whiny brats" and that he didn't want his child going to school with Jews. Bannon categorically denies the claims.
Can Bannon last?
Bannon is seen by many as so close to the president that he is effectively pulling Trump's strings. Clearly, he is a determined man who wants to wield the power he now has, and hold on to it, too. But if the controversies continue to hurt Trump's poll ratings, the wisest counsel may come from others close to the president – get rid of Bannon. As students of medieval history know, it's always the fault of the king's adviser, never the king.