Donald Trump's ceremony to reopen his luxury golf course in Turnberry was interrupted by prankster Lee Nelson brandishing golf balls with swastikas on them.
Trump was visiting the UK to officially reopen his multi-million pound Turnberry golf resort in South Ayrshire following a £200m ($288m) refurbishment.
During the ribbon-cutting ceremony, Nelson (real name Simon Brodkin) attempted to hand out the golf balls with Nazi insignia emblazoned on them before being escorted away by the US presidential candidate's security.
Nelson, who appeared to be wearing the official Turnberry uniform, could be heard: "The new balls are available from the clubhouse as part of a new Trump Turnberry range. I forgot to hand them out before, I'm very sorry Mr Trump, and thank you, I apologise."
Trump did not appear to fazed by the interruption and continued with the ceremony almost straight after Nelson was taken away.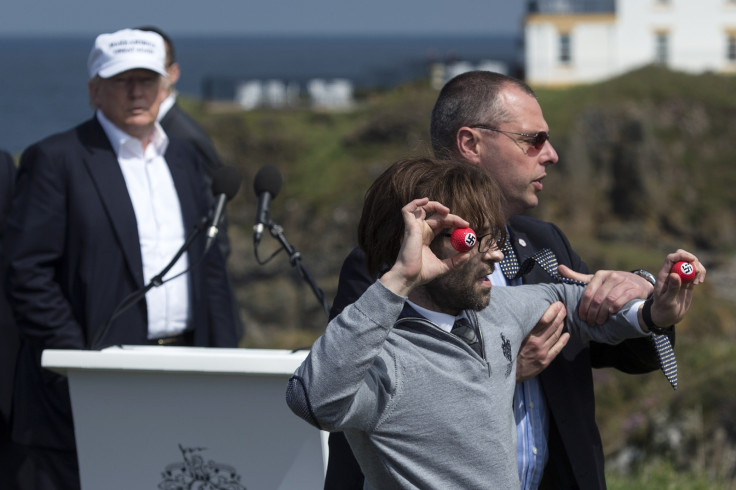 Prior to speech, Trump tweeted how Scotland was "going wild" that the UK voted in favour of leaving the EU and they had "took their country back" – despite the fact Scotland as a whole voted to remain in the EU by a huge 62% to 38% majority.
When asked about his opinion on the UK's Brexit, Trump said: "I think it's a great thing that's happened. It's an amazing vote, very historic. People are angry all over the world. They're angry over borders, they're angry over people coming into the country and taking over and nobody even knows who they are. They're angry about many, many things in the UK, the US and many other places. This will not be the last."
Nelson gained worldwide exposure after infiltrating former Fifa president Sepp Blatter's press conference during the height of the bribery and corruption scandal to shower him with fake bank notes.