A letter found close to the scene of an explosion that hit a bus carrying the Dortmund football team begins with the words "In the name of Allah" and references the 2016 Berlin Christmas market attack, according to reports.
German police are investigating the legitimacy of the letter with "Islamic links" which is said to claim responsibility for the explosions.
But police have stressed the motive for the attack is still unclear, adding the letter may have been faked to lead investigators down the wrong path.
According to German news agency DPA, police have still not ruled out the possibility the explosive devices could have been placed there by extreme violent football fans or people with right-wing extremist beliefs.
According to Der Spiegel, the first line of the letter says "In the Name of Allah, the Gracious, the Merciful". The letter also reportedly mentions the Christmas market truck attack in Berlin last December in which 12 people were killed and 56 others injured. The letter is also said to mention Germany's military operations in Syria.
The German football team were making their way to their Champions League quarter final match against Monaco when three "serious explosive devices" went off. Dortmund defender Marc Bartra was left with serious injuries to his hand after the windows of the bus shattered in the blast. A police officer who was escorting the bus on a motorbike was also injured.
Dortmund's first leg tie against Monaco was postponed until Wednesday night (12 April).
Dortmund's chief of police Gregor Lange and public prosecutor Sandra Lücke described the incident as a "targeted attack".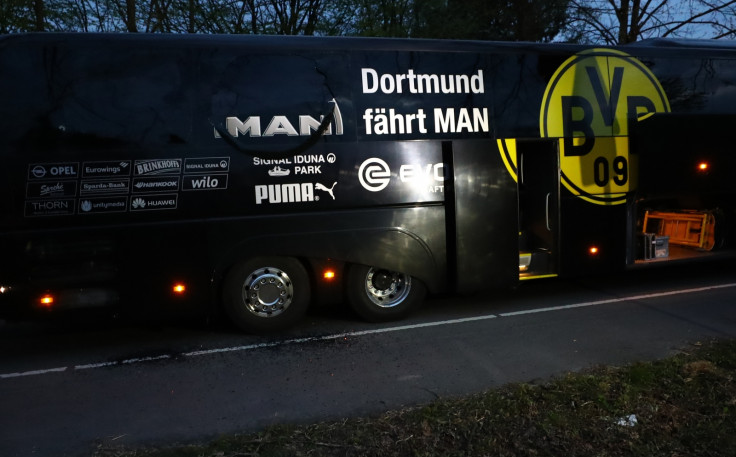 Lücke said: "At 19:15 CET, there were three explosions in the vicinity of the hotel in which the BVB team had been guests and were leaving to travel to the stadium."
He added: "The stadium and the surrounding area remain the focal point for police. We're preparing a major police presence for tomorrow and will do everything humanly possible to ensure the match can take place safely."