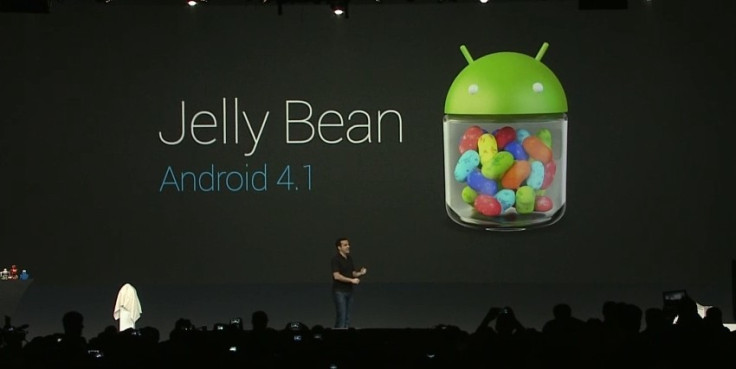 Google earlier hinted that the official Jelly Bean update would be coming to Galaxy Nexus and Galaxy S devices sometime in July. Nevertheless, leaked ROM image of Android 4.1 update for Nexus phone is now available for download, thanks to official Over-The-Air (OTA) release of the Android 4.1 (preview build) for developers that came out recently.
It is to be noted that the preview build of software will presently run on Google's native devices only, as it is yet untested on other devices from HTC or Samsung. With due credit to XDA member named bigxie, the compiled image of the Jelly Bean ROM is now flashable on Google Nexus (GSM model) using ClockworkMod Recovery. As with every beta download, the preview software could be afflicted with quirks and bugs, which may not be an ideal solution for consumer use.
Key Points to note before installing the Jelly Bean update on your Galaxy Nexus:
This firmware should be strictly applied on devices which are unlocked devices and are the International version of GSM model bearing I9250 model number.
According to Androidadvices, this update currently supports only the TAKJU model of GSM Galaxy Nexus and not the YAKJU GSM models. In other words, this firmware update is applicable for the latest build version IMM30D and will not work with IMM761 or IMM76D.
Backup your important data to ensure restoration capability for your device in case if data gets deleted or corrupted. Ensure that your device is at least 50 percent charged to ensure that it does not turn off during the flashing process. Navigate to Settings > Applications > Development > USB debugging and enable USB Debugging Mode.
Verify if the device is rooted or not using an app called "Root Checker" that is available for download from Google Play Store. Get your device rooted and make sure the Clock Work mod recovery is installed on the device along with unlocked boot loader.
If your device is not yet rooted, follow our step-by-step guide to root your Galaxy Nexus phone. Once rooting is complete, you must flash ClockworkMod Recovery, which should work fine on most devices except for non-Android devices like HTC HD2 and Nook Colour.
How to Flash ClockworkMod Recovery for Galaxy Nexus
Step 1: Download and install free ROM Manager [Download Link] on your Android device. You may also install the Ad-free Premium version [Download Link] and gain access to more ROMs.
Step 2: Start ROM Manager. Go to the main menu and tap on Flash ClockworkMod (CWM) Recovery
Step 3: You will prompted to confirm your phone's model. Though, this might seem a simple method, you should strictly verify the model number by using Google search. For instance this tutorial uses a Samsung Galaxy S2.
Step 4: Your phone will reboot after downloading and flashing CWM.
Now, you can boot into CWM by choosing either of the two options. In first option you can launch ROM Manager and hit Reboot into Recovery If this method fails (as it doesn't work for Galaxy S2), your second option is to reboot into CWM manually
To reboot into CWM manually, turn off your phone by holding the power button. Once it shuts down, you need to press the exact button combination on your phone while it is booting up. Most phones will work with Volume Down + Power Key combination, but it is best to verify "how to boot into clockworkmod recovery " on Google to ensure you've got the right button combination. For instance, on a Galaxy S2 you need to press Volume Up + Home + Power buttons simultaneously while booting up to get inside CWM.
How to Download and Install Android 4.1 Jelly Bean on Galaxy Nexus (GSM)
Step 1: Download the ROM image for Android Jelly Bean, the root fix and radio from this thread over XDA. Put all the downloaded files in the root directory of your Galaxy Nexus.
Step 2: To boot directly into CWM Recovery, shut down your device and turn it back on while holding down the Volume Down and Power buttons.
Step 3: Take a nandroid backup of your device.
Step 4: Navigate to the main menu of CWM, erase your data, do a factory reset and empty Dalvik cache.
Step 5: Select install zip from sdcard > choose zip from sdcard > Point to the Jelly Bean zip you downloaded and placed in your sdcard in Step 2.
Step 6: Now repeat Step 6 and flash the radio file.
Step 7: Once again, repeat Step 6 to flash the root fix. Note: This step is optional if you don't want to be rooted after the update
Step 8: Once you complete flashing the three files, just select reboot system now from CWM's home screen and your Nexus device should boot right into Android 4.1 Jelly Bean.
That completes the installation procedure for the latest Android Jelly Bean update. You are all set to enjoy the goodness of "butter" smooth user interface on your phone, thanks to the update.
[Source: Redmond Pie]