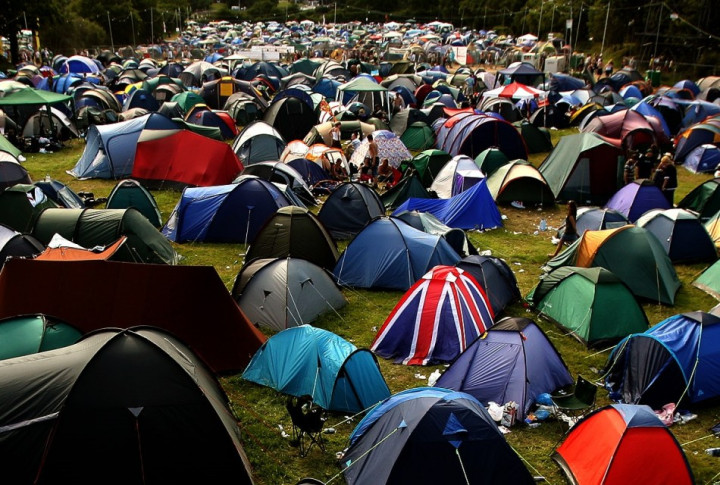 The Met Office has issued a severe weather warning for parts of the UK including the East Midlands, where the Download Festival will be held over the next few days.
Slipknot, Iron Maiden and Rammstein are to take centre stage from 14 to 16 June with over 100,000 people expected to descend on Donington Park in Leicestershire.
Forecasters warned that severe weather fronts will be moving in from Thursday, with "strong, gusty winds" expected to reach over 40mph.
The Met Office's chief forecaster said: "A rather tight area of low pressure will track across central Britain with a swathe of strong winds to the south. Although gusts will fall well short of those usually associated with warnings, the unseasonable element increases the risk of minor disruption to travel or summer activities."
On Friday, light rain is expected with temperatures reaching a maximum of 17C. Saturday will be the best day, with rain forecast only for the early evening. On Sunday, heavy rain is predicted throughout the day with maximum temperatures to reach 13C.
Richard Adams, senior meteorologist at the UK Weather Channel, said that while the weather would be poor for Download festival goers, it will not be as bad as last year when bad weather delayed the festival opening.
"It looks as though the arena should not be quite the mudfest that it was at the beginning of last year when an extremely muddy arena forced the festival to open late," he said.
Mixed conditions for Wimbledon
"However, you may want to keep those wellies at hand because through Friday there could be some quite heavy showers developing through the course of the day and it'll once again be turning quite breezy."
The Isle of Wight Festival, headlined by the Stone Roses, The Killers and Bon Jovi, will fare better - dry conditions are expected for the first three days, though heavy rain is expected throughout Sunday.
While exact information for Glastonbury (26-30 June) and Wimbledon (24 June-7 July) is not yet available, forecasters have said the end of the month and early July will be mixed but conditions will improve before deteriorating again.
The Weather Outlook said: "The second half of June is expected to bring more changeable weather with all regions seeing showers or longer spells of rain at times.
"The first half of [July] is expected to bring mixed weather, although the emphasis may well be on drier and warmer conditions, especially in northern regions.
"During the second half of the month a trend towards unsettled weather is expected, bringing an increasing chance of some heavy and thundery outbreaks of rain."
READ:
Chaos at Isle of Wight: Bad Weather Rains on Music Festival