A peaceful political protest in the Democratic Republic of Congo turned violent after senior security force and ruling party officials hired thugs for $65 (£43, €58) to attack the demonstrators, human rights campaigners have alleged. Until this intervention the protest meeting had been peaceful.
On 15 September, a group of youths attacked participants at a public meeting organised by opposition leaders. They were calling on President Joseph Kabila to step down at the end of his term in December 2016, saying the constitution bars him from seeking a third term.
Dozens injured
According to witnesses, more than a dozen demonstrators were injured and some were trampled trying to flee after the assailants, armed with clubs and wooden sticks, beat peaceful protesters.
"The apparent involvement of senior security and ruling party officials in the violent attack shows the ugly depths to which the authorities are willing to go to block opposition protests," said Ida Sawyer, senior Africa researcher at Human Rights Watch.
The assailants included members of the "youth league" of Kabila's People's Party For Reconstruction And Democracy (PPRD), youth associated with Vita Club, one of Kinshasa's main football teams, as well as intelligence agents from its national intelligence agency Agence Nationale de Renseignements (ANR), police officers and soldiers, all wearing civilian clothes.
Recruits paid $65 to attack protesters
Several young men, who were among more than 100 youths recruited by senior security officers and PPRD officials, claimed each recruit was paid about $65.
The recruits also alleged officials met them at a military camp in the capital Kinshasa the night before the demonstrations and gave them "instructions on how to conduct the attack".
"We were told to start attacking the demonstrators and create disorder as soon as one of the opposition leaders insulted President Kabila," one assailant said.
The recruits were provided with transport the next morning to the neighbourhood where the opposition demonstration was taking place, they said.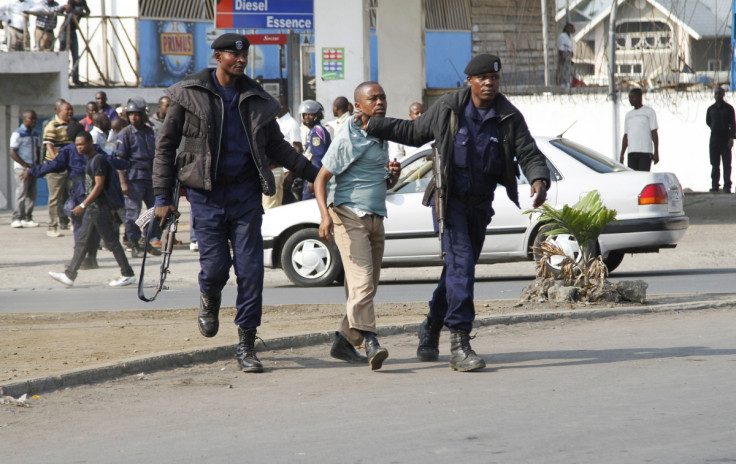 Police didn't stop the violence
Police deployed to provide security at the demonstration did not stop the stick-wielding assailants when they arrived, rather they stood by and watched. Officers only stepped in later when the protesters turned on the assailants and started beating them, leaving one youth dead.
Human Rights Watch condemned the attacks, saying the "police should remain apolitical, impartial, and uphold the right to peaceful assembly of all Congo's citizens".
Growing crackdown
The attacks come in the wake of a growing crackdown on those who oppose Kabila's third term or any delays in national elections scheduled for November 2016. With preparations for elections already behind schedule, concerns have been raised that Kabila and his supporters might encourage election delays thereby allowing a sliding of the election date into an extension of Kabila's term.