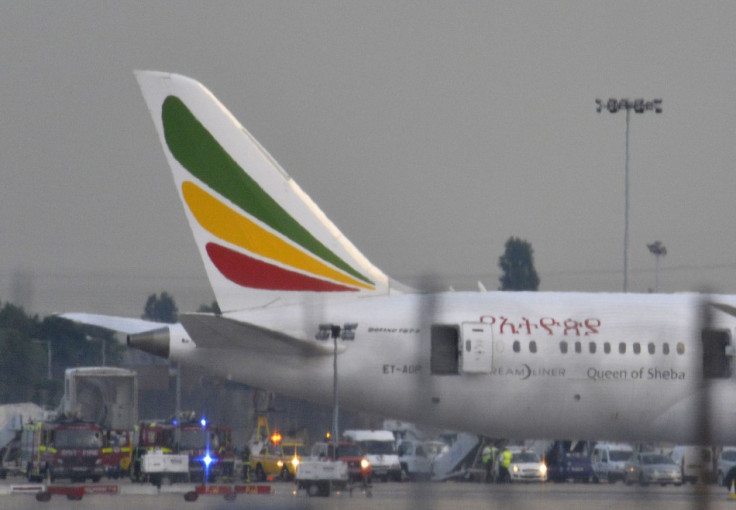 Condensation and pinched wiring may have caused the blaze that broke out on an Ethiopian Airlines Boeing 787 in London last week, according to an investigator.
The unnamed source has told Reuters that the plane's emergency location transmitter (ELT) is the focus of their enquiries as they attempt to understand the incident, which took place on Friday 12 July.
According to the source they have found a wire in the device, manufactured by Honeywell, that appears to be pinched, and are looking into the possibility that condensation may have seeped into it, causing a battery to short-circuit.
The carbon-composite 787 'Dreamliner' has much higher levels of condensation than other planes, the extra humidity making the atmosphere more comfortable on long-haul flights, with 15% humidity compared to the 4-5% humidity that is standard on other aircraft.
The fire broke out after the plane had been grounded for eight hours. When the 787 is not airborne and has adjusted to ground atmosphere conditions, the level of condensation rises.
"Condensation, humidity and installation - that's the focal point of the investigation," the source said.
On Thursday 18 July, the British Air Accidents Investigation Branch (AAIB) said the Honeywell beacon was the likely source of the fire, and called for use of them to be suspended as investigations are carried out. Stopping short of the recommendation, the US Federal Aviation Authority has called for airlines to carry out inspections of the beacons.
Speaking to Reuters, Boeing's chief engineer Mike Sinnett said that technology was in place on the planes to prevent a build-up of moisture from the plane's upper strata and fuselage.
But investigators are looking in to the placement of the ELT device on a bracket on the frame of the plane at a point where condensation builds up.
This is not the first problem the 787 has encountered since its maiden flight, when it was billed as the 'future of aviation' for its comfort and fuel efficiency. Earlier this year, the entire fleet was grounded after its lithium-ion batteries were found to have overheated.
Investigators are examining what effect being grounded in Africa may have had on the plane's equipment, and if this contributed to the blaze.
The fire caused Heathrow to close all of its runways, delaying some flights for up to six hours.