Drake Bell will think before he tweets in future. The Drake & Josh actor hit headlines in June when he was not invited to the wedding of his co-star, Josh Peck, and expressed his outrage in a Twitter rant. Now after calming down several weeks later, Bell regrets airing his grievances on social media and has buried the hatchet with his longtime friend.
The drama kicked-off when Peck, 30, married his girlfriend Paige O'Brien in a private wedding ceremony in Malibu, California. It turns out that Bell, 31, did not receive an invite and learned of the nuptials online despite being close friends with Peck and starring together in Drake & Josh for three years.
Bell reacted in a string of tweets, including one which said the "ties are officially cut" between him and his former co-star. In another, Bell said Peck's "true colours have come out today".
Fast forward more than a month and Bell is singing a different tune after realising that he should have addressed the situation with Peck personally.
The Grandfathered actor told Entertainment Tonight: "We've been together 18 years, Josh and me, me and Josh. We've been so close, it was just one of those things where you know, I'd been talking to him, and he's been telling me about the engagement.
"And then I saw on social media, the wedding, and I didn't hear about it. So, it was just one of those things where it was just like, 'You didn't even tell me?! I had to find out on social media?' And then you're like, 'You know what!? Fine!' and then I'm like, wait, I probably shouldn't have done that. Yeah, I said the ties are cut or whatever, but I should have just texted that to him, you know. I was just being cranky."
Bell describes his relationship with Peck as having "sibling rivalry" and the fallout is just what "best friends [go through]", adding: "It's the yin and yang of brotherly love."
Although Peck did not respond to his friend's comments publicly, the row did escalate with fans jokingly accusing Miranda Cosgrove of stealing Bell's invite thanks to her Drake & Josh character Megan famously causing mischief. Despite his popularity after appearing in the teen series for four seasons, Bell admits he was surprised by the public reaction to his tweets.
The actor said: "I couldn't believe it. I mean, what a slow news day. I was like, 'Trump, can't you tweet something? Please! Like, just do something to get the attention off of this.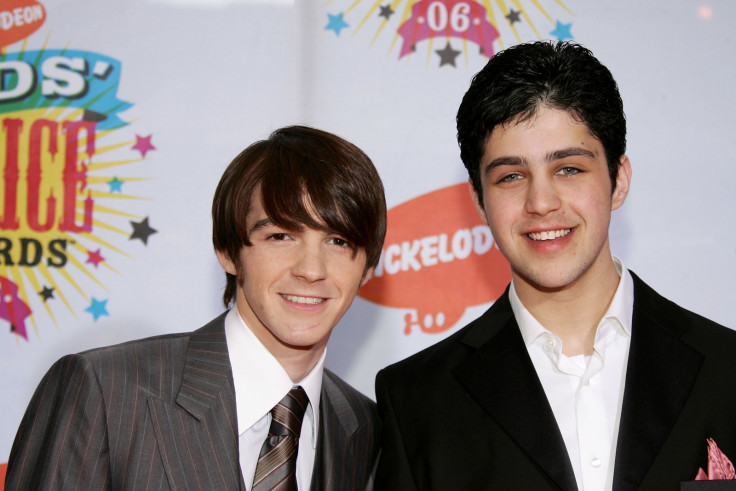 He continued:" But yeah, I was really surprised and what I was more surprised at was how the fans went after Josh. That bummed me out because I was reading the comments and thinking, 'Wait a minute, you know, I can say it but you can't.' I was like wanting to defend Josh, be like 'Whoa, easy guys, easy. This is between us.'"
Fortunately, the pair have called a truce and Bell is even open to reuniting with his friend on-screen, stating: "I would work with him until I'm 80 years, you know... So no hard feelings. It's just when you've been so close to somebody for so long, I mean, there's just certain things that you know, 'Hey why'd you do that? C'mon man.'"
Bell added: "The chemistry ... and what I have with Josh is so unattainable in this business."