Talks aimed at smoothing troubled relations in the Democratic Republic of the Congo over the upcoming elections were suspended for at least 48 hours on Tuesday (20 September) after outbursts of violence in the capital Kinshasa.
The announcement comes as the country heads into fresh turbulence. The Congolese people are expecting presidential elections in November, but there are indications that the current president, Joseph Kabila, is seeking to hold on to power beyond his mandate. Under the Congolese constitution, presidents can only serve a maximum of two terms.
Nationwide protests demanding that President Kabila steps down from power when his second full term expires turned violent in Kinshasa after police fired tear gas and live bullets to disperse hundreds of stone-throwing youths on Monday (19 September).
Kodjo: Dialogue impossible to resume amid unrest
Edem Kodjo, former prime minister of Togo who the AU appointed to lead the mediation in the DRC, on Tuesday announced that the forum that has been held for two weeks in Kinshasa was suspended following the unrest.
While government spokesman Lambert Mende confirmed that 14 civilians and three policemen were killed in the clashes, the opposition has claimed up to 50 people may have been killed. IBTimes UK is unable at this stage to confirm these figures. At least two people were wounded and two were found burned to death in the headquarters of the opposition Union for Democracy and Social Progress (UDPS) party in Kinshasa, according to RFI.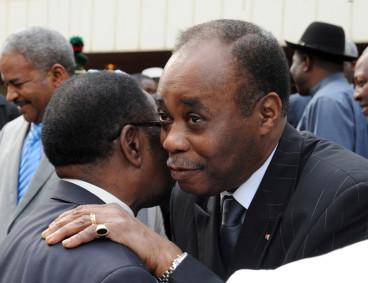 Kodjo used the break in negotiations to offer his condolences to the families of the victims of Monday's violence.
Since 1 September, the AU has been continuing to foster synergies for national dialogue in order to ensure a peaceful way for the presidential elections. The dialogue work was suspended on 12 September after opposition parties walked out of election talks when they refused to back down over the sequence of elections in the country.
The dialogue resumed after an agreement was struck between Kabila's camp and the participating delegation, led by opposition leader Vital Kamerhe.