Pro-democracy activists have called for a resumption of protests on Tuesday (20 September) as the Democratic Republic of the Congo (DRC) reels from a day of violence after clashes between security forces and protesters left at least 17 dead, including three police officers. The Lutte pour Le Changement (Lucha) movement called for nationwide protests to demand that President Joseph Kabila steps down from power when his second full term expires, but these turned violent in the capital Kinshasa after police fired tear gas and live bullets to disperse hundreds of stone-throwing youths on Monday (19 September).
Unrest continued overnight, with the headquarters of two opposition parties burnt down, according to AFP.
Thanking and congratulating the Congolese people, who turned out massively in all corners of the country to demand the respect of the Constitution, Lucha deplored the deaths in Kinshasa among the demonstrators but also among elements of the national police.
"The people has demonstrated, once again, its determination to defend its Constitution and achieve political alternation at the end of the second and final term of President Joseph Kabila on 19 December 2016," a spokesperson for Lucha said in a statement on Tuesday.
"Lucha calls on Congolese to remain mobilised and demonstrate again this Tuesday 20 September and the following days, until the convening of the presidential election and the announcement of its holding in time to allow the political alternation within the constitutional deadlines. Lucha urges the security forces and demonstrators to refrain from any act of violence."
While the activists invited politicians, members of the electoral body (CENI) and the international community to support the protests, Lucha also condemned all acts of violence against persons and property, arbitrary arrests and assaults including against journalists, political leaders and members of the civil society.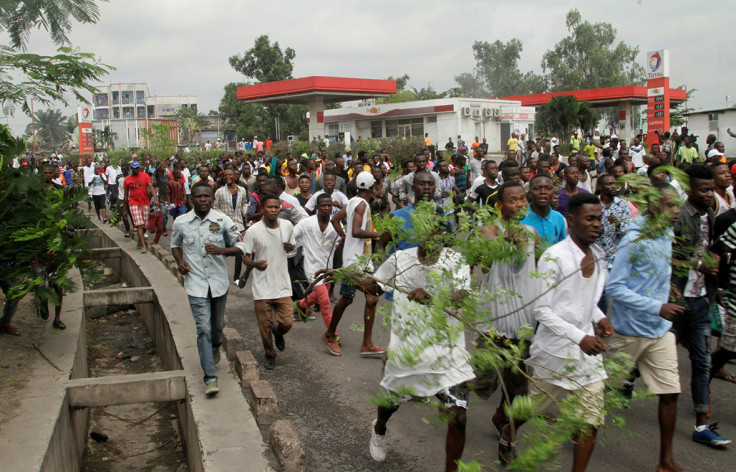 While government spokesman Lambert Mende confirmed that 14 civilians and three policemen were killed in the clashes, the opposition has claimed up to 50 people may have been killed. IBTimes UK is unable, at this stage, to confirm these figures. At least two people were wounded and two were found burned to death in the headquarters of the opposition Union for Democracy and Social Progress (UDPS) party in Kinshasa, according to RFI.
Senior opposition leader, Martin Fayulu, was wounded in a shooting before he was arrested, among other politicians and civil society leaders, including human rights activist, Donat Mpakebon, from Les Amis de Nelson Mandela pour la Défense des Droits Humains (ANMDH).
One of RFI's (Radio France International) journalists, Sonia Rolley, reported she and a colleague from the AFP were arrested and "given a rough time" for five hours by the Congolese authorities for reasons she said she ignored.
"We demand the release of all persons illegally detained in Kinshasa, Kisangani, Kindu, Lubumbashi and elsewhere, and made available to justice those who are suspected of a breach of the law, including members of security services, for quick, impartial and fair trial," Lucha's spokesperson said, before insisting on the need to hold election within the constitutional deadlines.
"Without this, it is feared that the violence will continue and worsen in the country, with the preventable casualties and material damage."
Presidential elections are supposed to take place in November 2016, but the vote is set to be postponed up to 16 months due to outstanding issues which are yet to be resolved, including updating the voter register.