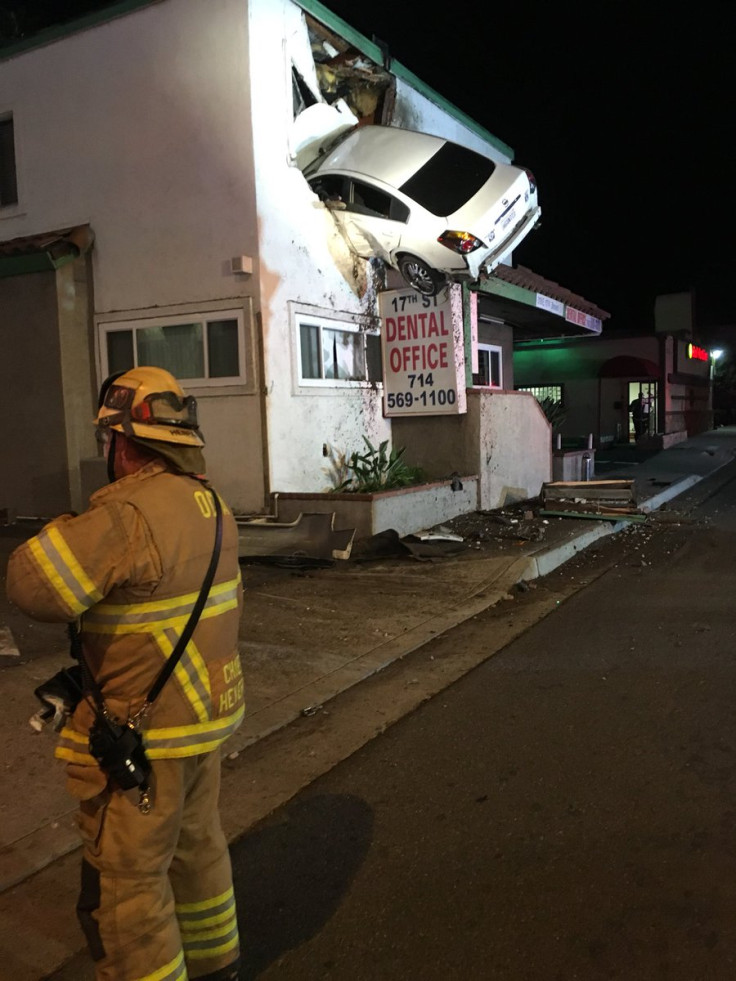 This was the scene in Santa Ana on Sunday morning (14 January) after a car launched into the air and crashed through the second floor of a dental office, becoming partially wedged.
Orange County Fire Agency (OCFA) shared photos of the scene, where one person was temporarily trapped in the white saloon car as a fire burned in the building. The vehicle had become airborne after hitting the central divide in the road, reportedly at speed while the driver was high on narcotics.
At 6.45am PST (2.45pm GMT) the fire department tweeted: "OCFA in Santa Ana with a vehicle that crashed into the second floor of a small Office building. The vehicle hit the center divider and went airborne and landed into the building. One person self extricated, the other person is still trapped in the vehicle."
Officials added 45 minutes later that both victims were safely out of the building with just minor injuries, and that a fire had been quickly extinguished.
OCFA and LA County Urban Search and Rescue teams then began working together to remove the car from the building using a large truck and crane. Debris was strewn across the ground below the vehicle and Public Works also attended the scene to ensure the integrity of the building structure.
According to officers from Santa Ana Police Department, the car was travelling at high speed on French Street when it struck a raised central divide, launching it into the air.
Officers also said that the driver had admitted to using narcotics and that he or she would be admitted to a local hospital for observation.