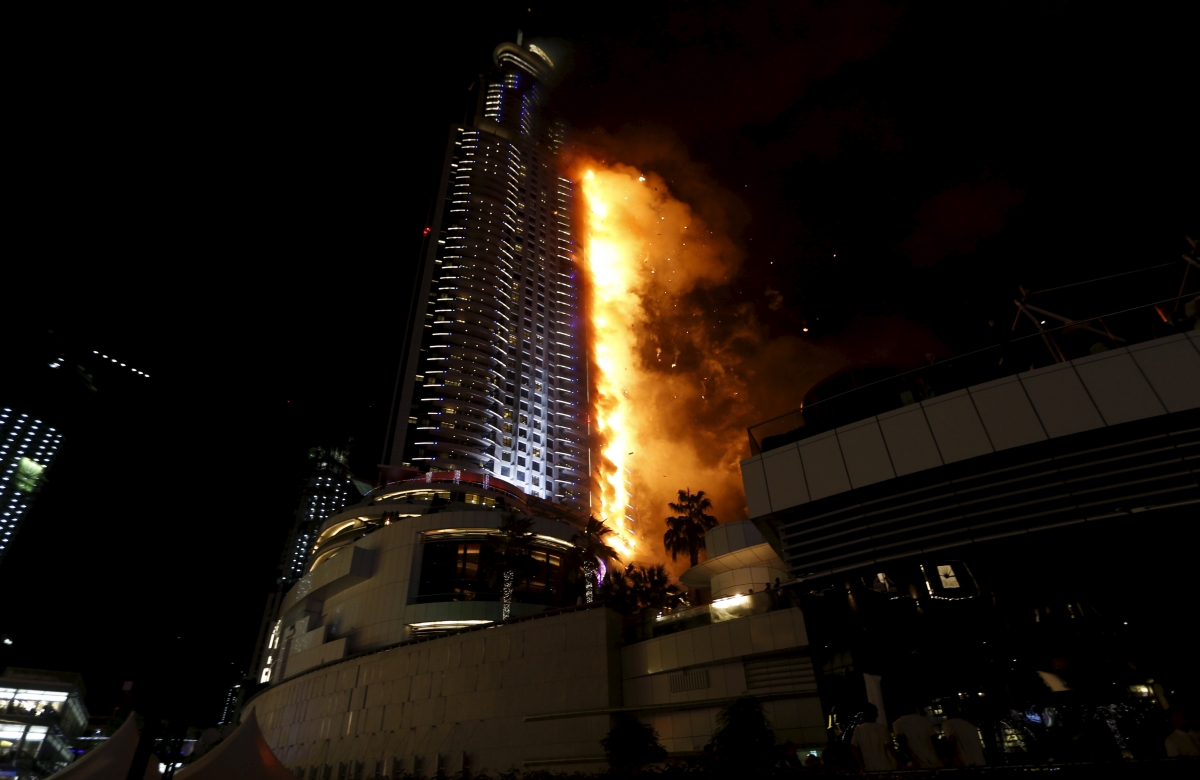 A fire broke out in a luxury five star hotel in Dubai just hours before thousands of revellers the biggest city of the United Arab Emirates were getting ready to see in the New Year. Officials have said 16 people were injured and the fire was under control however there is no word yet on the cause.
Early reports from Dubai authorities said the fire had started on the 20th floor of the 63-floor hotel, an entire side of which was engulfed in flames. Footage shows the flames raging on the ground floor of the hotel, with debris falling from the 300m-tall (1,000ft) building as firefighters tackled the blaze. The hotel is near the world's biggest building the Burj Khalifa.
Eyewitnesses described how screaming crowds ran from the scene on the pavement below.
The government's Dubai Media Office tweeted that fire crews were at the scene, and that the blaze started on the 20th floor of the building and mainly affected the exterior. The Address Hotel tweeted that emergency services had evacuated the building. Dubai authorities said in a tweet that internal fire extinguishers had prevented the blaze spreading inside the building.
Dubai Police chief Colonel Saif al Mazroui said no casualties are reported yet, amid fears that guests and revellers remain trapped in the building.
According to eyewitness Michelle Duque: "The fire was really burning quick and fast". Pictures show the blaze spreading rapidly from a terrace at the top of a tiered part of the structure then spreading up the sheer face of the building within minutes.
The hotel is not located far from the Burj Khalifa tower, the centre of a spectacular New Year fireworks display thousands have gathered to watch, which will be broadcast to millions more worldwide. A Civil Defence official appeared on Al Arabiya to insist that that the celebrations will proceed.
The Address is the 19th tallest building in Dubai, with 196 rooms and 200 apartments. It was completed in 2008.