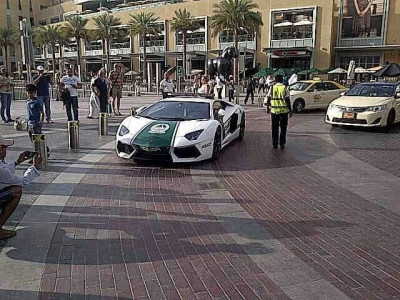 Chasing criminals in a city with one of the highest concentrations of supercars in the world is no easy task, so Dubai police have decided to get one for themselves.
The Dubai Police Department has added to its fleet a $550,000 (£359,000) Lamborghini Aventador, able to reach up to 217mph.
The two-door, two-seater sports car has been painted in the official Dubai police colours of green and white, and equipped with flashing lights on top.
The Italian-made Aventador can go from 0 to 62mph in 2.9 seconds and will be dispatched to tourist areas to show off "how classy Dubai is," said Gen Khamis Matter al-Muzaina.
As part of a fleet restyling, Dubai police have also bought some sensibly less expensive - and classy - Chevrolet Camaros.
Despite rising fuel prices, in recent years supercars and particularly Lamborghinis have become incredibly popular with security forces across the globe.
Qatar's Traffic Department rewarded its driving officers by adding a Lamborghini Gallardo to its fleet in 2009, and a number of Porsches to celebrate the country's National Cay in 2011.
Headquartered in Sant'Agata Bolognese, north-east Italy, the Lamborghini company gifted local police two Gallardos in 2004 and a then-brand new Gallardo LP560-4 in 2009.
However Italian officers managed to destroy one of the six-speed luxury vehicles in a car crash in 2009.
Not benefiting from the same territorial link with the car company, Panama's National Police got itself a Murcielago, seizing it from Colombian businessman David Murcia Guzman, who was arrested on money laundering charges in Panama City in 2010.
Porsche 911s are reportedly used by German and Austrian patrol police.