In 1991, Danish photographer Krass Clement spent three months in Ireland, shooting his acclaimed photobook 'Drum', legendary for being created in just one evening on three rolls of film (and a rumoured five pints of Guinness). The book captured local residents in a pub in the small village of Drum, focusing on a hunched old man who sits alone with his drink, his solitary state accentuated by the figures rotating around him.
During this period, Clement also photographed the city of Dublin. Published for the first time more than 25 years since they were taken, his melancholic, monochromatic photos take us on a journey through deserted streets on the outskirts of the Irish capital in the dark before dawn.
Shot at angles, offering furtive glimpses into doorways and down urban streets, Clement gives the viewer the impression of walking through the backstreets and staying in the shadows. These photographs appear to show a city not rooted in the late 20th century, but rather a Dublin out of time.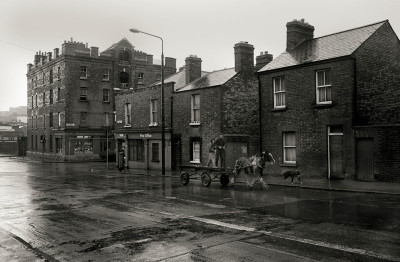 Dublin by Krass Clement is published by RRB PhotoBooks on 30 November 2017. The publication of Dublin will coincide with an exhibition of work by Krass Clement at The Gallery of Photography, Ireland in Dublin from 14 November 2017 to 14 January 2018.
More than 25 years after making his acclaimed work, Krass Clement will revisit the village of Drum. A special projection installation of his work will be sited in the (now closed down) bar where the work was made.
Krass Clement was born Copenhagen in 1946 and is a self-taught photographer. He graduated as a film director from the Danish Film School in 1973, and when it became evident that his future was not to be in film he returned to the photography he had practiced since his youth. He published his first photobook, Skygger af øjeblikke (Shadows of the Moment) in 1978 and since then has published more than 20 further titles. Clement's work has been the subject of over 20 solo exhibitions across Europe, is held by museum collections including Bibliotek Nationale, Paris, Museum of Modern Art, New York amongst others.