Duke Roufus says CM Punk learned from 'a real beating' as talks for second UFC fight begin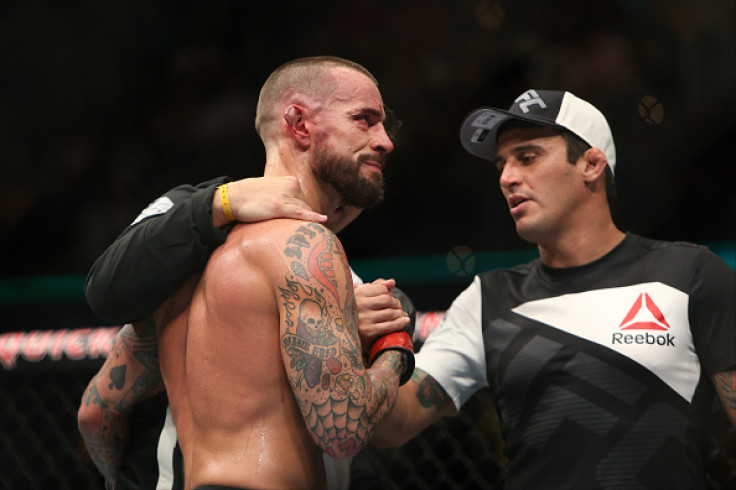 KEY POINTS
CM Punk has not fought since his MMA debut loss at UFC 203 in September 2016.
Roufus says former WWE star's defeat to Mickey Gall will serve as motivation.
CM Punk's coach Duke Roufus has revealed that talks over the Chicago native's second-ever UFC fight have begun.
The former WWE champion made his highly anticipated MMA debut at UFC 203 in September 2016 when he faced young prospect Mickey Gall.
It was not a happy debut though, as he was outclassed by the New Jersey native who took the fight to the ground instantly, delivering a beating and winning in just over two minutes via a rear naked choke submission.
The manner of the defeat led some to wonder if Punk would ever return to the octagon, however, he remained confident of fighting in the UFC again despite being outclassed.
Roufus, who had previously posted on social media that Punk was training ahead of a potential second fight, now says there will be news on an opponent soon.
"(UFC President Dana White) and the matchmakers had their weekly matchmaking meeting yesterday, and we'll get some news soon," Roufus said in a podcast as quoted on MMAJunkie.
Roufus also reflected on Punk's loss to Gall and believes the manner of how it went down could prove to be beneficial for the 39-year-old.
"I just think the first time you step in the octagon, there's something special you've got to deal with getting in there," he added. "For Punk, this sounds really weird, but now he knows what a beating feels like – a real beating."
"I think (a loss like Punk's at UFC 203) will help a lot of fighters to the point of haunting them, like, 'No, I don't want to feel this way ever again'. It's not the physical. These guys are tough.
"It's the mental anguish. You don't want to feel that depressing, embarrassing feeling of getting beat up in front of God and everyone. It's no fun. It's been great motivation for him."