Far-right Dutch politician Geert Wilders has sparked outrage once again with his comments about Muslims and the Islamic religion. In a television interview Wilders described Islam "as an ideology that is possibly more dangerous than Nazism."
He argued for the closure of mosques, drawing a comparison with "Nazi temples", and told Dutch broadcaster Rick Nieman that "Islam does not belong in The Netherlands."
Wilders backtracked on his previous promise to criminalise owning a Quran, but suggested the religious text should be banned from bookstores, and should be viewed in the same light as Adolf Hitler's Mein Kampf.
"The Quran is far more anti-Semitic than Mein Kampf," he said. "It is full of calls inciting violence."
He said that his Freedom Party (PVV) only has one campaign promise: "To make The Netherlands ours again".
"We will close the borders and we will stop sending all our money abroad — to Africa, to Brussels, to Greece – and give that to the Dutch people living in our country," he told viewers.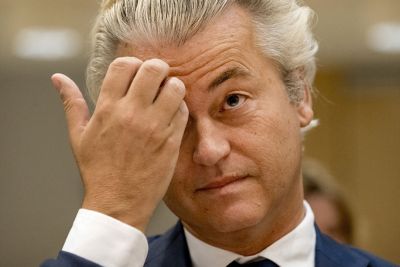 Despite his opponents' pledges that they will not work with the PVV, Wilders said he is confident that he will be able to form a coalition. The PVV is currently leading in the polls and is predicted to win close to 30 seats. Wilders said the other parties cannot avoid the PVV's success. "If the voter chooses to make the PVV great, then they will have to work with us. You don't just sidestep two and a half million people. That would be very ill-advised."
Prime Minister Mark Rutte said on Twitter on 13 February that there was "zero per cent" of a collaboration with the far-right leader. His credibility has been questioned by critics who point out that he recently tried to woo PVV voters with a letter telling immigrants who do not respect Dutch customs to leave.
At least three parties will be needed to form a coalition, according to the latest polls. If the PVV is taken out of the equation, five parties are needed to form a majority. Wilders said this scenario is unlikely. "The government will be so unstable that not only will it not serve the country, but it will be lying on its ass within a year, to put it crudely," he told Nieman.