Philippine President Rodrigo Duterte assured China on Monday (10 April) that his military will never place "offensive weapons" on the Philippines-controlled islets in the South China Sea. He told a news conference that he had ordered his military to only reinforce areas in the disputed waterway and not militarise it as he expressed his wish to maintain peace and friendly ties with China.
He stressed that any future activities by Philippine troops in the Spratlys would not be aggressive. "For the information of China, we will not place there any offensive weapons, not even one gun," Duterte said.
The tough-talking president set off alarm bells when he ordered troops to occupy and fortify the Spratly islands in the South China Sea on 6 April, in a bid to reinforce Manila's claims over the disputed territory in the face of increasing military assertiveness by China.
He said although he wanted to maintain geopolitical balance with Beijing, his country needed to enhance its territory in the Spratlys because "everybody's grabbing" islands in the hotly contested waters.
However, the Philippines defence and military officials later clarified Duterte's statement that Manila only wanted to upgrade the existing facilities there and not occupy new territories.
"I'd like to address myself to the Chinese government... I ordered the occupation of the 10 or nine islands that are just near our shores because there's a heightening of geopolitical issues and eventually maybe a violent low intensity war over here," Reuters cited Duterte as saying.
Duterte reiterated that Manila would not engage in any military buildup. However, the US might want the Philippines to do so, he said.
Ever since he announced severing of ties with the US in October 2016, following his visit to Beijing, Duterte has squarely blamed Washington for the current tensions in the sea. Earlier in March, he slammed the US for not taking action against China when it first began the construction of the man-made islands in the South China Sea.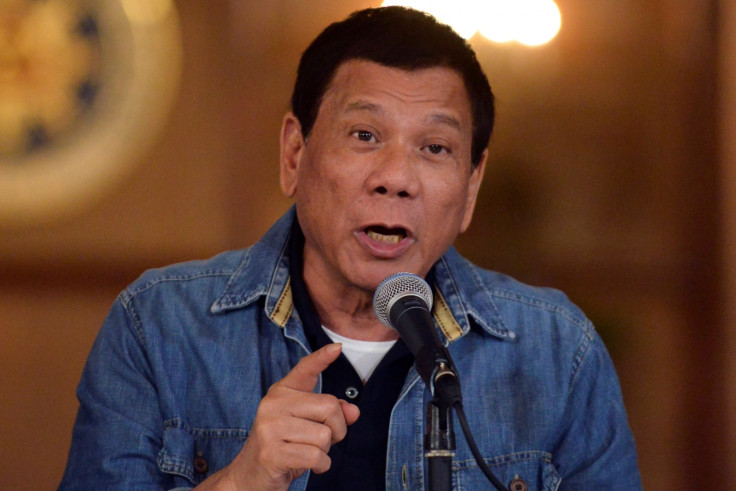 But he has rarely criticised China for its actions in the international waterway, through which $5tn trade passes each year.
"If they [US and China] fight each other, we will be hit. Everybody knows, the United States will be stockpiling their weapons there. And, they said they will not," Dutete said.
He added: "I do not want to get involved in a war between nations. I have extended my hand and friendship to the US government."