China has expressed concern over Philippines President Rodrigo Duterte's comments on sending troops and upgrading facilities in one of the Philippine-controlled islands in the South China Sea. China's foreign ministry said on Friday (7 April) that it hoped Manila would properly manage maritime disputes with Beijing.
On Thursday (6 April), Duterte had ordered the country's military to occupy and fortify the Spratly islands in the South China Sea in a bid to reinforce Manila's claims over the disputed territory in the face of increasing military assertiveness by China. "We tried to be friends with everybody but we have to maintain our jurisdiction now," Duterte had said.
However, Philippines military officials have clarified that Manila only wants to upgrade the existing facilities there and not occupy new territories.
What he really meant was to upgrade facilities in the "already-occupied areas", military spokesman Brigadier-General Restituto Padilla said.
Another military official said on Friday (7 April) that the Philippines would adhere to an informal code of conduct of parties in the hotly contested waters that it signed up with China and the Association of Southeast Asian Nations in 2002.
"The president's order was very crystal clear. Occupy only the existing areas that we claim," a navy commander, who is aware of the development plans in the South China Sea, told Reuters. "The Philippines is not allowed to do that, occupy new territories in the Spratly, based on the 2002 agreement."
The code of conduct is aimed at avoiding conflict over claims on the waterway, through which about $5tn (£4tn) worth of seaborne goods pass every year. Besides China and the Philippines, Brunei, Malaysia, Vietnam and Taiwan are also claimants on the territorial dispute in the South China Sea.
Defence Minister Delfin Lorenzana also clarified that Manila was planning to only repair and upgrade facilities in the Spratly islands.
"The president wants facilities built such as barracks for the men, water and sewage disposal systems, power generators, light houses, and shelters for fishermen," Lorenzana was quoted as saying by Reuters.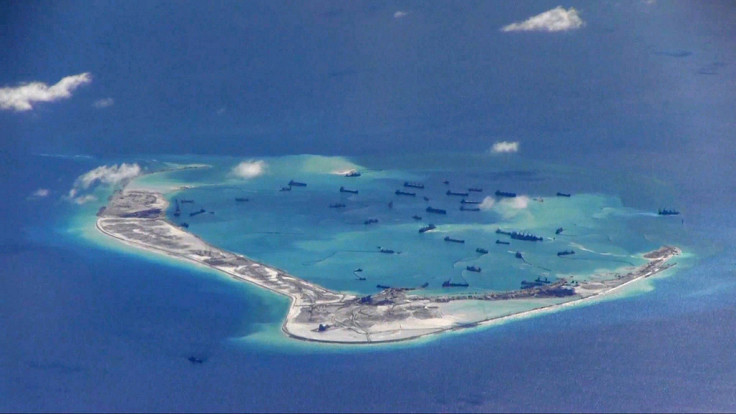 Another defence official, who spoke on the condition of anonymity, told the news agency that the Philippines had once planned in 2012 to carry out development work in the South China Sea, including building a secured port on the Thitu Island. It also reportedly wanted to construct helicopter pads in three smaller islands, and called for an increase in troop deployment in the occupied islands.
However, the plan was shelved after Manila filed an arbitration case in 2013 against China's unilateral claims in The Hague.
Thitu is the second largest of the naturally occurring Spratly archipelago and the largest of the Philippine-administered Spratlys. It is close to Subi Reef, one of the seven artificial islands created by China in the Spratlys.
Duterte said that he might visit the island on 12 June to raise his country's national flag on the Philippines Independence Day.