Philippine President Rodrigo Duterte on Tuesday (27 September) apologised to three people who were found to have been wrongfully accused of protecting the illegal drug trade in the country. The president said the goof up appeared to be a result of some intelligence lapses and he is "very sorry" for the mistake.
"I can be foulmouthed but when I make a mistake, I can say I am very sorry," the president was quoted by the Inquirer as saying after publicly apologising for the mistake. However, the president is unapologetic about the rampant killings that are taking place in the country as part of his war on drugs, despite strong criticism both within the country and internationally.
He favours death for the criminals and has now, as promised during his election campaign, geared up to bring back the death penalty in the country. He was recently spotted promoting capital punishment, saying it was the best means of serving justice when God does not come to the rescue of the needy.
Known for his bold comments, the president accused his predecessors of surrendering to the pressure of the "bleeding hearts" and to the Catholic Church, which objects to the death penalty because they believe "only God can kill". He said the death penalty can now be restored in the country "because the fear is not there" anymore.
He went on to question God's presence, citing the numerous incidents of atrocities against women, children and other vulnerable people across the world. "When a one-year-old, an 18-month-old baby is taken from the mother's arms, brought under a Jeep and raped, and killed, where is God? And in Syria women and children, who don't want to have sex with Isis [Islamic State], they are burned. So where's God? My God, where are you?" he was quoted by RT News as saying during a recent press conference at his official residence, the Malacanang Palace.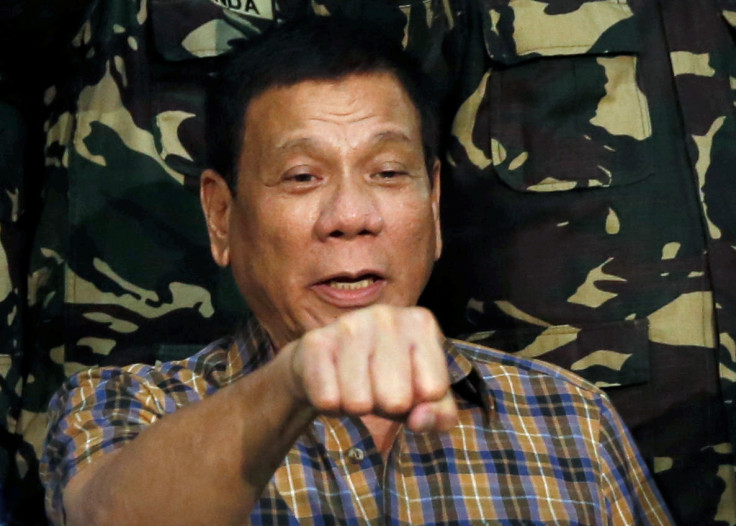 "The problem with that is, I ask you, 'what if there is no God?'" Duterte added, noting that he is a believer of God, but does not agree that we should wait for the end of the world when God will judge the living and the dead.
"That is why, I said give me back the death penalty," the president said, adding that he has "always been a hardliner when it comes to the penal laws".
On a previous occasion last week, he reportedly said if God may not approve all the drug killings, but he will talk to Him when he meets Him. "I'll ask Him, 'If you are really God, you didn't do anything, and the Filipinos are going crazy'," he said.