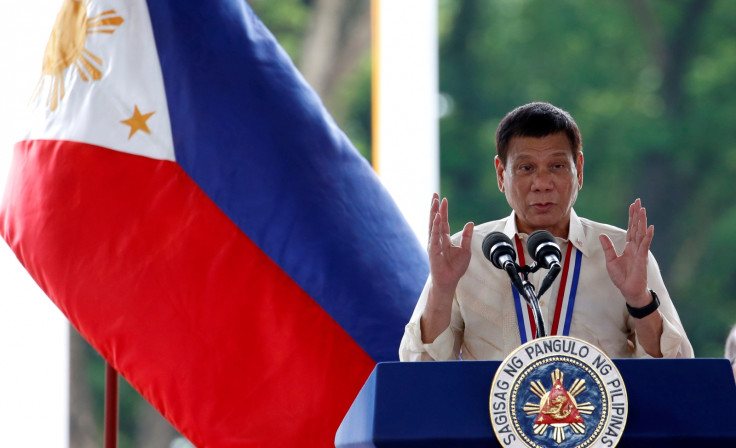 Rodrigo Duterte said he sometimes playfully spanks the rear of his female security staff in Malacañang, the Philippines' presidential palace.
Speaking at the alumni homecoming of San Beda College of Law on 26 November, he said: "I spank them on their bottoms in Malacañang if I'm ill-tempered. I get my folder and tell them: 'You're part of the problem.'"
He added: "It's done jokingly". The outspoken Filipino leader, who is no stranger to controversy, claimed that Western codes have gone too far and "modern times" spoil the fun.
"The problem in these modern times and the living past, everything is prohibited," Duterte complained. Despite the inflammatory remarks, the president said he was mindful as to whether sexual harassment was taking place.
Duterte's comments have been condemned by Senator Risa Hontiveros, who spoke out against the objectification of women and said it fuels a widespread culture of misogyny, sexism and rape.
"This quotation is alarming on so many levels, even as the Palace spokespersons will explain this, as they have done in the past, that this is a harmless joke," Hontiveros was quoted as saying during a speech.
"If we were to review the country's anti-sexual harassment law, an incident such as this can... An ordinary workplace would most probably trigger the filing of sex harassment charge against the person," she added.
Hontiveros has frequently confronted the issue of sexism and backed her colleague, Senator Leila de Lima, as she was questioned during a congressional investigation into the proliferation of illegal drugs in the New Bilibid Prison last week.
"It was not an investigation in aid of legislation. It was a public lynching in aid of misogyny and sexism. The intention was clear," said Hontiveros.
"Members of the committee were grossly unparliamentary. Their derogatory line of questioning did not aim to shed light on the issue of the drug trade in our prisons. They were meant to humiliate and shame Senator de Lima for her association with a certain man, or her past relationship," she added.
The conduct towards de Lima was also denounced by Senators Grace Poe and Nancy Binay.