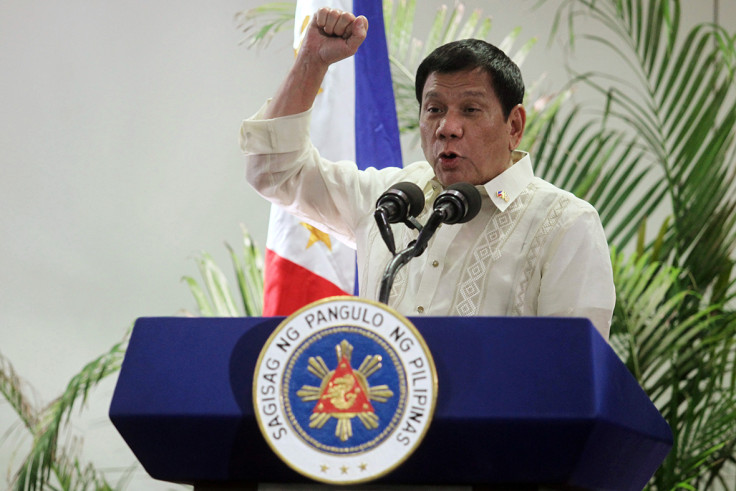 President Rodrigo Duterte said he is ready to hand over a list of public officials involved in the narcotics trade to the National Security Council, Senate president and speaker of the house by the end of the month.
Reports indicate the compilation implicates at least 1,000 mayors, governors, congressmen and members of the police force. However, according to the country's chief presidential legal counsel, the list is more than one-foot high and identifies thousands more public officials.
"There are about 5,000 to 10,000 government officials there [in the list]. There are barangay captains, mayors, governors, members of the judiciary and prosecutors. I do not know the names, but I saw the folders. It is more than one-foot," Salvador Panelo said on Sunday (27 November).
In a speech to lawyers, judges and graduates from the San Beda College on Saturday (26 November) the fiery leader once again reaffirmed his commitment to the deadly war on drugs in the Philippines – a key pledge in his presidential campaign. "I will go after the corrupt," Duterte said.
"Then I said I would suppress drugs...And believe me, until the last pusher is out of the streets, and the last drug lord is exterminated, it will last until the last day of my term – we will not back down. And I said, criminality – it has stymied our economic, social, and political life. It should also stop," he added.
"I will be giving them [the National Security Council] a list – along with the Senate President and the Speaker of the House – and then let us formulate how to prevent disaster for the next generation."
Duterte described the Philippines' drug problem as a "virulent issue" and claimed the epidemic would "not come out" had he not been elected leader. Since Duterte took office earlier this year, more than 5,600 people have been killed as part of the war on drugs and there have been over 3,650 victims of extrajudicial or vigilante-style killings as of 23 November, according to data from the Philippine National Police (PNP).
Despite the stark figures, the president said he would not take his foot off the pedal when it comes to ridding the country of narcotics and issued a chilling warning. "In the coming days, I will make it a must, that all of you who are into illegal drugs should not step out of your house," he was quoted as saying by the Inquirer.net.
"I don't have [enough] jails. You just stay in your home and lock yourself up. If you go outside, son of a b***h, I will kill you if I see you outside," Duterte continued in signature expletive-laden comments.
The president's strong warnings come as the UN special rapporteur on extrajudicial killings plans to visit the Philippines next year. According to Rappler, the government is looking into Agnes Callamard's conditions for her visit to the country.